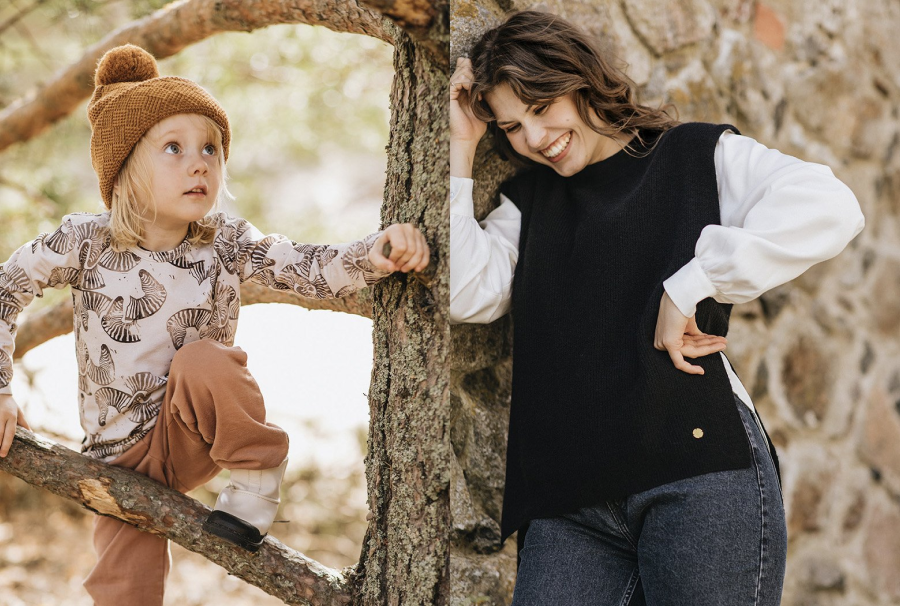 The story of Kaiko begins with founder and CEO Mirjam Sokka. Her long-lasting passion was to design beautiful, high-quality clothing for women and children but not at any cost. For Mirjam, a life altering event was the collapse of the Rana Plaza building in Dhaka, Bangladesh in 2013. Over 1100 people lost their lives. Big industry players started shutting down their production in Bangladesh. For Mirjam this raised the question of what will happen to all the talented workers, when the industry pulls out? 
She took on a mission - fashion with social responsibility and promoting equality within the fashion industry. Kaiko employs less fortunate people, especially in developing countries and in this way, helps people to build a better future. They are also committed to donating 7% of annual profit to Women's Bank, a network of donors, all committed to a more just and sustainable world, to educate women and children.
Partnering with Woolman to learn faster in their own eCommerce team 
Kaiko's eCommerce marketing team wanted to fully understand what commerce data is telling them. This is why they chose to develop their own knowledge further by partnering with Woolman. Woolman has a dedicated team of experienced merchants who have a 360 degree understanding of international commerce and mastering the different social media platforms. Kaiko's advisory board invited Woolman growth lead Mikko Rekola to join them to set business goals for eCommerce together and then guide the team in tactics and execution.  
"There seems to always be a benchmarking case to be learnt from when discussing an idea or the performance of an app with Woolman. We are saving time, money and agony through this confidential partnership."

 

 -

 Suvi Pakkala, Marketing & eCommerce Manager
The Kaiko and Woolman teams meet twice a month to dig deep into results through commerce data, and plan new experiments for the next coming weeks. Development is continuous as is learning together. An essential part of cooperation is experimenting with effective new customer acquisition tactics, but perhaps even more important is having the right processes to keep customers engaged with the brand. 
"The cooperation between Woolman and Kaiko has been an exciting growth story for the both of us. We started by ensuring that Kaiko was using all the possibilities Shopify provides for a D2C merchant. Later, we have helped Kaiko to maximize their customer acquisition in several channels. Kaiko has a very dedicated customer base and during the growth process we noticed that Kaiko could really benefit from product reviews and user-generated content on their site. Therefore, Yotpo was introduced to Kaiko, and it has grown to be a key app in their store."

 

 - Mikko Rekola, Lead Growth Hacker, Woolman 
Customer feedback and reviews drive growth and development
Kaiko has very dedicated customers that connect strongly with Kaiko's mission. A big part of the mission is transparency to their business from production to customer experience. 
Kaiko wanted to have an easy and efficient solution for engaging with their customers and this is why Woolman pitched Yotpo in. Yotpo Reviews and Ratings were brought into the store. The impact in commerce for having reviews and ratings is helping customers buy. They can get to know the products better and have honest opinions from other users. It is also fully automated, so each review is automatically linked with the product. Understanding the sizing better with reviews has reduced returns.The Kaiko team is quick to rewrite product information when they identify signals for improvement. Reviews are also used for creating content in advertising, newsletters and social media posts.
"Yotpo reviews and ratings are at the core of our engagement. In seven days from each purchase we send a request for feedback. It is so easy to link the reviews and ratings to products. The peer to peer content is much more powerful and credible than our own. The authentic content is such a joy to share with our own team as well, to remind ourselves of the impact of our team effort."

 

- Suvi Pakkala, Marketing & eCommerce Manager 
In the years Kaiko has been using Yotpo, they have already accumulated over 9000 reviews. Their all-time engagement rate is 27% and the star rating an amazing 4,69. 
Adding visual social proof generated by customers to the store
Kaiko customers love giving feedback. Since the founding, customers have been active on social media tagging them in their postings. Feedback has spread over several channels making it difficult to make use of.

In the spring of 2021 Kaiko added Yotpo Visual UGC to their store. Seeing authentic pictures of different shaped and sized people is extremely valuable. The colors of life show best through user-generated content. In authentic pictures there is a tangible feeling of connection between the brand and customer. Kaiko has established a gallery Kaiko Looks for UGC that they are now promoting.
"

We believe Kaiko Looks is a wonderful way of helping people see our products in new settings and worn by customers rather than models before the purchase. It is a great opportunity to engage in co-creation of beautiful content."

 

- Suvi Pakkala, Marketing & eCommerce Manager
Managing permissions for using the user-generated content is now easy and in one place. Kaiko is able to smoothly link the visual content tagged in customers' Instagram with actual Kaiko products. This allows customers to read reviews, see ratings and look at the pictures of products on other customers. This is a combination of great products and social proof, all in one, to help customers make informed purchasing decisions.

Kaiko Loyalty program is the next step
As for any brand, new customer acquisition is an important growth factor, and at the same time you must remember to take special care of your existing customers. The Kaiko business model is launching new collections bi-monthly and a loyalty program can offer a lot of value. Launching new collections is an opportunity to target new customers with branded advertising, which Kaiko continues to do with Woolman. It is also the perfect reason for reaching out to existing customers through the loyalty program that will be hosted by Yotpo. 
"We want to be in close contact with our customers on many levels and want to keep a low threshold for feedback, dialogue and engagement. The co-creation and loyalty solutions allow us to keep developing these. It is impossible to measure value in Euros' but we think the combination of our own marketing efforts and the user-generated content together are cost-effective and truly create value for our community. "

 

- Suvi Pakkala, Marketing & eCommerce Manager
Mareena Löfgrén, Brand Manager, Woolman Oy
What is your success story going to be?