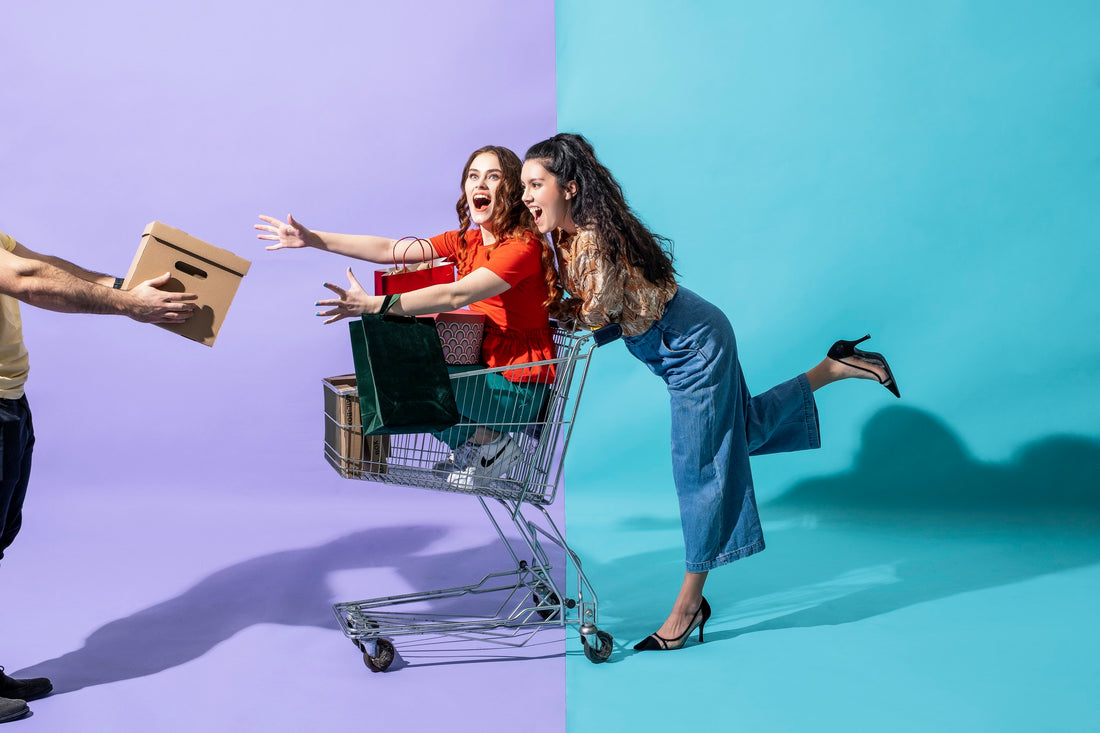 The beauty industry is booming and is ahead of the game in comparison to many other sectors when it comes to innovation and eCommerce. With a variety of exciting trends popping up from advanced technology to beaty and wellness becoming more closely connected,  it is easy to see why the industry is set to reach 800 billion dollars by 2023.  With monopoly Brands like L'Oreal taking over 20% of the market share and new innovative brands constantly on the rise, it is becoming increasingly more difficult to stand out as a brand. Long gone are the days when you could just have an eCommerce store with a catalog of products. If you want to stay in the game, you have to offer an immersive and personalised experience for your customers that keeps them connected to your brand and coming back for more. 
So, how do we build a high-level experience that will wow the customers?  In this article, we are diving into the current trends disrupting the beauty industry, how successful brands have leveraged them, and what we can take away from them.  
Strategy 1: Value-driven decision making
A brand's job is to create value for the consumers, and those values have dramatically changed over the past years. With the rise of megatrends like health & wellness and sustainability, the beauty industry has also taken a major shift in this direction to accommodate the needs of its customer base. According to Future Market Insights, the global sales of natural cosmetics are expected to reach 48.8 billion euros by 2027. This shows evidence of consumers' concern about toxins and harmful ingredients in products which have led them to favour ethically sourced products with organic and high-quality ingredients. Brands with transparent sustainable practices are rising in popularity, especially among the Millennials and Gen Z - the growing customer base for the industry. 
A great example of a successful sustainable beauty brand is Lush. From a small shop on High Street in the UK to international success, Lush products are 100% vegetarian, 80% vegan, cruelty-free, and handmade. Many of the products are also solid, reducing the need for packaging and preservatives, and the ones with packaging use recycling materials. They also offer special incentives for customers such as receiving free face masks for bringing plastic packages back to the store. 
The secret to Lush's success is its strong mission in sustainable and ethical practices. Whether it is their fierce stance on animal testing or their choice to remove themselves from certain social media platforms to stand up for safety issues for users - they remain authentic to their values. With consumers looking up to brands who are participating in social movements, it is clear to see why so many favour Lush as the brand of their choice. 
To understand more about how to become more sustainable as a brand and use it as a competitive advantage, read our article here.
Strategy 2: Fast-growing community building 
As humans, it is in our nature to want to feel like we belong somewhere which is why we are drawn to communities where we feel heard and understood. The modern world of technology has made us less connected in the real world, but it has offered an opportunity for us to connect to a larger amount of people online that share similar values and interests. Brands with a strong social media presence are able to build communities more easily and find quicker ways to connect to the customers on a more personal level. Also making use of modern technology like Bambuser - a tool for live video shopping, is a fantastic way to create an experience for your customers and connect with them. With live video shopping, you are able to highlight certain products and interact with your audience as they shop in real-time. 
Drunk Elephant, a skincare brand that commits to only using ingredients that benefit the skin's health, has risen to success through its customer-centric approach and open communication. They frequently share their customers' reviews and photos on their social platforms and respond to comments and feedback. With such a close connection to their customers, they are able to develop their products faster and create a large network of loyal customers. 
A study was done by Harvard Business Review which revealed how beauty shoppers look for product information before deciding to buy. Results showed that 67% of shoppers rely on social media influencers for product recommendations and 59% on third-party reviews.  It is no surprise then that collaborating with influencers, both big and small, is one of the best investments a brand can make when it comes to marketing products. Why? Trust matters. Adobe's Future of Marketing research revealed that customers are more willing to buy more frequently from brands they trust and recommend the products to others. Influencers have already gained the trust and respect of their loyal followers, therefore their followers find it easier to make a choice on a product their favourite influencer has recommended. Using tools like Yotpo reviews and ratings can help to increase the willingness to buy as customers can look at ratings and photos of the products on the website from other customers.
ColourPop cosmetics is a great example of how to collaborate with influencers in an innovative way. Instead of just paying influencers to advertise their products, they involve them in the creation process when they release new product lines. With limited-edition launches and regular giveaways on Instagram, they have managed to gain a huge online following, surpassing a lot of celebrity-driven brands like Kylie Cosmetics and Rihanna's Fenty Beauty. 
Strategy 3: Hyper-personalised shopping experiences
According to McKinsey, today's customers expect a personalised experience when shopping but only 15% of retailers are fully utilising personalisation in their strategy. This shows the huge opportunity that still exists in this area. 
Having a direct-to-consumer business model with access to customer data, and using effective data analysing tools, brands are able to gain valuable insights into the behaviours of their customers and can predict more accurately what the customer might desire next. Helping the customer find exactly what they are looking for in the easiest way possible is a sure way to win the customer over. 
Some ways that beauty brands are seen to personalise the customer experience is using real-time chat tools with AI bots to help the customer navigate the online store or for example using make-up try-on tools enabled by AR (augmented reality) technology. AR helps to resemble the experience a customer would have in a live store, experimenting with the products before actually having to buy them. Personal recommendation tools like Froomle help to create a tailored shopping experience by using AI technology to analyse customers shopping behaviour and use that data to suggest them products they will like.
Function of beauty, a leading brand in customised haircare, has nailed the personalised shopping experience. Customers do a quiz on the website, answering questions on their hair type and specific goals, through which the algorithm then recommends the best formula for the customer. The bottles of the shampoo & conditioner are also customizable, with the option to choose the colour and adding their name on the bottle. Function of beauty only sells directly to consumers through their eCommerce shop, which allows for easier customer feedback and faster product innovation. 
Strategy 4: Creating a lifetime of value 
As today's consumers are looking for convenience in their shopping experiences, it is no wonder that subscription models have grown into such popularity. In 2020, beauty subscription brands average order value increased 20% and customer lifetime value by 29%, revealed the State of Subscription Commerce Report. The flexibility and convenience of subscription services is great for the customer, but it also serves a huge advantage for the merchant. Not only is there more predictability when it comes to revenue, customer retention is easier and more affordable than acquiring new customers. Subscription services is the perfect solution to entice loyal customers and increase their lifetime value. 
When it comes to beauty products, the consideration time can be long as customers  review and compare different products from different brands. There are simply too many choices out there! The beauty brand, Birchbox, has managed to gain over 1 million subscribers with their innovative subscription service model. With a monthly subscription, a customer gets a variety of product samples with customisable options for an affordable price. This creates an exciting experience for the customer as they get to discover new products regularly and find out the best ones for them. 
Birchbox has eased the shopping experience online by providing a beautiful solution to the limits that an online experience can give - customers being able to take home samples, similarly as they would when shopping offline in brick and mortar stores. 
Have the right tools and resources
Finally, it should be mentioned that it is incredibly important to assess you have the right tools and resources to support you in creating the best possible experience for your customers. 
Having the right platform that helps you scale is absolutely crucial.  As Europe's largest Shopify partner, we do recommend Shopify for a variety of reasons. Shopify is flexible and built for multi-channel selling and scaling your business. It also allows for many customisation options and has an app store with a large selection of applications for added features and functionalities, including the tools we have mentioned in this article. Some Shopify partners like ourselves can also customise apps for our clients with specific needs. 
Thinking outside the box and navigating the complex, fast-paced world of eCommerce and Direct-to-consumer business is not always the easiest. This is why we offer full-service solutions to help you reach your strategic and commercial goals. Mastering these strategies with the right tools and partner, can be a winning equation for any brand. 
READY TO BUILD A WINNING STRATEGY? 
Written by Jacinda Vuorinen, Content Producer, Woolman Oy