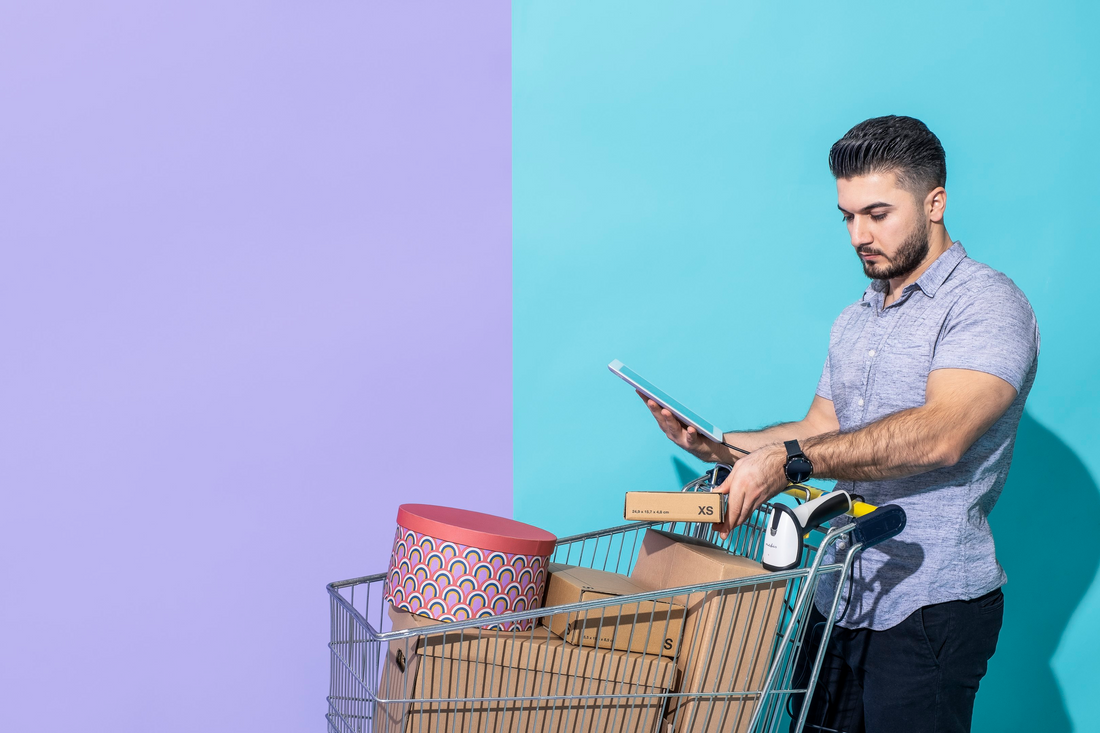 On the 29th of June, Shopify announced one of the most significant improvements to this date: Shopify online store 2.0. But what does Shopify 2.0 actually mean? What impact do these new features have on your online store? Should you even rush to upgrade your store to Shopify 2.0?
In this blog, we'll explain what Shopify 2.0 is and walk you through the new features and explain how this update opens up massive opportunities for your brand, together with our Design Lead, Joonas Toroi.
Let's dive in. 
What is Shopify 2.0?
Shopify online store 2.0 is an upgrade released on the Shopify platform to help store owners save time, enhance performance, and empower better content management. 
As Shopify manages commerce for over 1.7 million businesses worldwide, it's crucial that this eCommerce giant continues to innovate and inspire store owners worldwide. 
"Shopify 2.0 is essentially one of the biggest investments Shopify has made in the last years. It's something that we developers have been waiting for. Shopify's main aim is to help brands craft even more exceptional experiences. With this new update, Business owners can do just that."
While Shopify is one of the most intuitive eCommerce platforms, there was a need for more customization abilities, especially on product and landing pages. With Shopify 2.0, the pressing need for customization belongs to the past. 
"People tend to think Shopify 2.0 is just about the theme, but Shopify 2.0 allows for many more opportunities -of course, the theme is in the core but - the new theme architecture (especially the theme templates) enables business owners to manage the content throughout the site more easily. The untapped potential for business owners is unlimited: creating better customer experiences more easily. Making landing pages with different sections they already have in their themes. You can even control the different parts of different pages and in even more detail like your product page. You easily can drag and drop titles, and prices on the product page. In short: you can customize your entire store much more easily."
- Joonas Toroi, Lead Designer at Woolman
What are the new features, and benefits of Online store 2.0?
While Shopify online store 2.0 has numerous new features and improvements, its main benefit is that owners get much more control and flexibility in editing, customizing, and maintaining their store. Here below, we've compiled a list of the most impactful new features and their benefits. 
| New feature | Benefits |
| --- | --- |
| Improved theme editor* | Makes it easier for you to navigate and make changes to your store. |
| Sections available on all pages | Endless content possibilities. Sections will help you build and customize every page on your site. So you can make better landing pages or campaigns. This will help you boost sales and enhance your customer experience. Another benefit is that you efficiently scale branded content across your entire store, without having to code. |
| Massive upgrade to Shopify metafields | Allows you to create unique product specifications on a per-product basis. For example, if you have a product with different pricing or a different shipping time, you can easily add it to your selected products without adding it to all products. |
| Better and faster product filtering | Product filtering is built natively in Shopify, so there is less loading time, which increases your site speed and decreases your bounce rate. Managing and using filters becomes much easier. |
| Updated app extensions | Building, maintaining, troubleshooting, and removing apps is much easier. It also improves your site speed. |
| Enhanced site performance | Expect faster load time and bounce rate improvements.  |
| Refreshed checkout experience | More checkout apps rolled out to Shopify store owners |
| New added multilingual capabilities | No need for external integrations or a headless setup, multilingual stores are built natively on Shopify |
| All-round improved experience | Building and editing your Shopify store is overall faster, more fluid, more efficient and more rewarding. Opening up time for newer innovations and a better eCommerce experience. |
*Note that the theme editor is the same even for merchants with old themes. The old themes just don't have all the same features available in the editor as the ones with the new structure.
Sections available on all pages
Ever heard the phrase, "sections everywhere"? This new feature is the most anticipated and significant change for store owners using the Shopify platform. 
So what are these "sections" and how do they improve your customer experience and help you boost sales? 
Sections are content blocks that you can place on your site to customize the appearance of your store. "Sections everywhere" means that you can now place these content blocks can throughout your entire site.
"In the past, you could easily drop and drag sections to the front page of your store, and have different content living there. But you couldn't use these sections on any other pages like on your collection page, product page or any landing page." 
- Joonas Toroi, Design Lead at Woolman.
With the help of page builders like Zipify or Shogun, store owners often tried to overcome these limitations, so they could build customizable pages and edit the appearance of their store to their liking. But these page builders tools would slow down their site, cause several bugs, and were a nuisance to update. This ultimately forced store owners to create landing pages with inconsistent designs. 
"Running a successful marketing campaign is key to any eCommerce business. Creating engaging landing pages that showcase your brand will help you boost sales. With Shopify 2.0 you no longer have to use page builders to customize the content on your site. You can now reuse the same sections in different parts of your site. Meaning you get a whole world of opportunities to run engaging and highly converting marketing campaigns" 
Not only can you create unique custom landing pages for your marketing campaign, it also helps you scale branded content across your entire store and improve your brand consistency, without having to write a line of code. 
"With Shopify 2.0 you no longer have to use page builders to customize the content on your site. You can now reuse the same sections in different parts of your site. Meaning you get a whole world of opportunities to personalize your store and finally build customized landing pages that will boost sales and enhance your customer experience." 
In other words: as sections are now available on all pages, you have endless content management possibilities, including 
Crafting exceptional ad campaigns and unique landing pages

Customizing the appearance of your Shopify store on every page

Ability to keep your brand consistent at all times. 

Full ownership to select and choose which content blocks appear when and where

No longer will need to use cumbersome page builder tools that slow down your site or need to hire a developer  
This is an incredible change, as now you are in full control and can edit and personalize your content without any limitations or need to write code. This opens up so many opportunities for store owners to maximize their ad campaigns. 

Massive upgrade to Shopify's metafields 
Ever wanted to add extra content, images, or pieces of information to a particular product or customer's order? Consider it done!
Say, you run a clothing store with multiple different types of products. While some of your products may be made from sustainable cotton and can be washed at 40 degrees Celsius, others can't. Prior to Shopify 2.0, you couldn't simply a single product description, without changing it on all pages. This was not only hard to do, it was in fact very messy, unstable and in worst case scenario - it could slow down your store.
Thankfully, this all changed.
We've made a major update to metafields that makes it easier to manage your store's metadata. From ingredient lists to customer details, you can now easily store and reference different types of metafields within Shopify. 🏷️ pic.twitter.com/nQejqeByrv

— Shopify (@Shopify) June 29, 2021
Online store 2.0 made a massive upgrade to Shopify's metafields. You no longer need to add an external app or go through all the hassle of hardcoding displays into your theme, you can now simply edit metafield through the new admin. The new metafields types include: color, product, variant page, measurements, file, data, time, true or false, number, rating and so much more. This may sound technical, but it basically makes it much simpler for you to share the unique features of any product. You can:
Create unique product specifications on a per-product basis (i.e: if one product takes longer to ship or has a different return policy or is made from different materials or even manufactured in a different country, you can list it individually) 

Add ingredient lists (i.e. you're running a vitamin store and want to share the nutritional values and different vitamin types of each product that you can allow a customer to filter on by attaching them to a glossary)

Add more content (you can anything from URL to video's to images to text to measurements to ratings to boolean, the sky is the limit) 
Improved theme editor
The theme editor is updated for all merchants, but the OS2.0 themes brings much more features, like managing and creating templates becomes easier. While Shopify regularly likes to change its theme editor, this is by far their boldest upgrade yet. The new theme editor is much more user-friendly. It's easier for you to navigate and edit your site, as it has all available features and functionalities in one central place. This also helps you save time whenever you need to make any changes or updates to your store. 
So should you upgrade your store to Shopify 2.0?
It fully depends on your current situation. Here at Woolman, we advise clients to first analyse their current store. Map out what they are currently lacking, what new features clients truly need, and what new features could really help brands scale and grow. 
In most cases however we do not advise a brand to migrate to Shopify 2.0 but to build their store again from the ground up in a new theme, This is because most brands will have had multiple apps and developers working on the site which leaves much unused JavaScript and other unnecessary things that slow down your store. When migrating this over to Shopify 2.0 it means all the "junk" is moved too.  
"Too often, agencies advise brands to migrate to Shopify 2.0 to make a quick buck. At Woolman, we want to make sure that it's the right move for you. As Shopify will continue to support the older version, migrating to Shopify 2,0 is not a necessity yet, but a conscious investment that should help you more to the next level.
The old themes work really well, but the new Shopify 2.0 comes with lots of new features that can help brands build great campaigns that drive revenue. If you're already at the point where you feel like you need new features, I need refreshed design, feel like you need production descriptions that really sell the products, then it's important to use a theme that supports these new features. "
Is Dawn Shopify Theme good?
In some cases, Dawn is an excellent free Shopify theme for many store owners. It's 35% faster than Debut, has all the great features of Shopify 2.0, and works well on all devices and browsers.
So there are plenty of reasons to consider Dawn. 
Expert tip: Use tool like GooglePageSpeed to test your current site performance for mobile and desktop devices. Once you know what our current site speed is, you can roughly estimate how much your store will improve from Shopify Dawn. And as you know - website conversion rates drop by an average of 4.42% with each additional second of load time. The highest eCommerce conversion rates occur on page with load times between 0-2 seconds. 
However, like our Shopify expert, Joonas Toroi points out, The Dawn theme may not work for everyone:  
"The new Dawn theme is a good starting point, but perhaps not visually appealing enough for certain brands. You have to keep in mind that Dawn is built for many industries to work, which meant some concessions had to be made, so it would work for many brands. Of course, this "one size fits all" doesn't suit every brand. That's why it's important to first always discuss your exact needs and then select the right theme after." 
Woolman has released a Premium Shopify Theme - Taiga
Taiga theme has been developed precisely for the needs of modern merchants. This Shopify 2.0 premium theme has in-depth customisation options with over 20 different sections, optimised for both mobile and desktop. On top of that, you can effectively use moving picture in a variety of sections - bringing your products to life in a brand new way. 
Looking to upgrade your Shopify theme to 2.0?