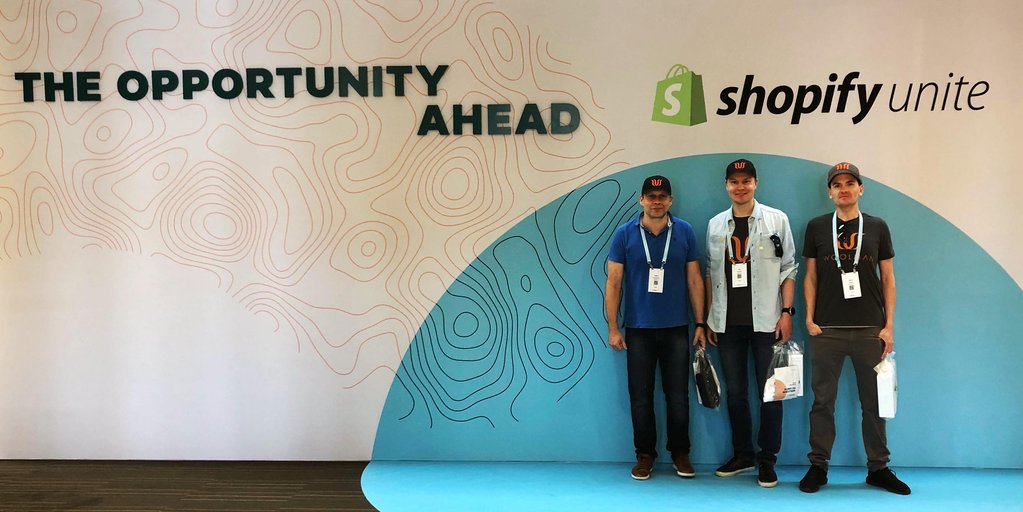 At the Shopify Unite 2019 event, several upcoming updates to Shopify e-commerce and its functions were announced. In this article, we've brought together the most important upcoming new features sorted by main characteristic.
Some of the new features are already available, but most of them will become available to online merchants this year. If you have questions about Shopify, the new features or how to start using them, contact us!
Modifying the look of your online store to become easier
In practice, the aim of Shopify is to create better tools for managing the sections, look and functions of your store. No exact date has been given for the launch of this new feature, but we can expect to see it in Shopify online stores later this year. 
What will the new feature for modifying the look of your online store contain?
Modifying sections page-by-page. In future, you can modify any page using a dedicated section, which before was only possible in full scale for the home page. You can also set content to be visible on several pages from one place, using the new master pages.
The content moves with you. Content moves with you when you want to make changes to your online store – such as updating a theme to a new version or trying out a new theme. You no longer need to duplicate themes or copy content manually.
A totally new workspace for managing the look of your online store. In the new workspace you can, among other things, use a draft to plan and build your online store with confidence.
The old themes will continue to work normally, but if you wish to use the new features, you will need to update the theme structure to conform to the new model.
Multilingualism for all
Shopify wants to make selling globally as easy as it is in your home country. The data gathered from Shopify merchants shows that cross-border sales are growing strongly.
Shopify has not supported more than one language in one store before; instead, the solution was either market or language-specific stores or separate translation apps. The newly published APIs, or interfaces, enable multilingualism in one online store. In addition, APIs also allow services such as app store apps, which can be attached to the Shopify ecosystem, can use and store language-specific data.
It is important for multilingualism to extend to the online store's extra services to ensure that the user experience is multilingual throughout. Hopefully, as many Shopify ecosystem app developers as possible understand how important this is and will respond to the need quickly. 
The change will enable the display of the site language (locale) in the URL path (e.g., shop.com, shop.com/fi and shop.com/se). These additions will notably improve multilingual search engine visibility and help merchants offer their customers a consistent online shopping experience. On the new Language settings page you can define the languages (locales) used in your store.
Previously, we strongly recommended separate stores for different language versions, particularly instead of translation apps that worked poorly from a SEO perspective. In future, translation apps can work "natively" with Shopify, which will enable the making of notably better apps from the SEO perspective. In future, a merchant will be better placed to think from a business, for example marketing, perspective, whether to use separate stores or language versions in different linguistic regions.
Store currency follows the customer's currency
Shopify Plus stores using Shopify Payments have been able to display several currencies since October 2018. From now on, the feature will be adopted at other Shopify online store levels.
Shopify promised to expand Shopify Payments to a global payment solution by the end of this year – this feature has been eagerly awaited!
The store will be in the customer's own currency from the product page to checkout and payment. At present, the feature supports ten currencies: GBP, AUD, CAD, EUR, HKD, JPY, NZD, DKK, SGD and USD. However, it is very possible that this number will grow as Shopify Payments expands to new regions.
The Shopify online merchant view at present in Finnish 
Shopify started expanding the language options of its admin view or "online merchant view" last year. As a result, over 100,000 Shopify merchants are presently using the admin view in a language other than English.
Now, the admin view can also be used in Finnish and Swedish, alongside many other new language options. The Finnish translation is still in beta, so it may still contain unusual Finnish translation choices. 
You can change the admin view language via your profile: in the desktop view, click on the Your profile option in the top right. Scroll down to Account language (pictured) and change the language.
In addition, at least some of the other key Shopify sites are available in these new languages. An example of these is the Shopify Helpcenter, which is now available in Finnish as the Shopify ohjekeskus.
Modifying orders
Shopify has wanted to improve customer service by making it possible to modify orders. Now orders can be modified on the order page before the order has been fulfilled. In future, products in the order can be added, changed and removed.
If the online store orders have been integrated into a warehouse management or ERP system, it is worth clarifying whether these systems and existing integrations support order modification. Most probably, at least some integrations will require extra capability for these more complex usage cases to function throughout the order and delivery management chain.
Shopify Plus gets even more efficient
Shopify Plus is going to experience a big update this year. Thanks to the update, Plus merchants can view the situation of all their stores easily in one place. The new "control centre" will enable the following:
Managing online store users from a central view

Global customers; that is, customers can also be managed from one place

Moving quickly between stores

Automations done on Shopify Flow can be either store-specific or shared among several stores

Shared analytics for stores
Both language versions and more centralized management of several stores, which makes things considerably easier, regardless of whether you need language versions or separate stores in different markets.
Read more on the Shopify Plus further information page. 
Videos, 3D and AR for product pages
Later in 2019, Shopify will bring videos, 3D models and augmented reality (AR) to product pages. In future, all the necessary key components (admin, video players, storage space for videos and 3D models, etc.) can be found on Shopify without the need for third-party services. All the merchant has to do is produce the videos or 3D models.
Totally new Shopify POS
Shopify wants to make checking out in store faster, so that meeting the client in store is still the focus. The whole user interface has been rethought with speed and ease of use in mind. Shopify is building its second most-important channel into an e-commerce-like platform where app developers can developer easier-to-use apps. What's more, the apps are more firmly at the centre of POS than before.
Read more about the POS update.
Shopify Fulfilment Network
Shopify is going to invest significantly in its own fulfilment centres in future. This is an alternative both to Amazon fulfilment centres and to building one's own, geographically distributed warehouses. The basic Shopify idea will still be retained: merchants will own their own brand and customer data, which is a problem for many with Amazon, for example. 
The crucial competitive advantage will be the speed and reliability of deliveries. The normal delivery time in future will be under two days. In addition, the fulfilment centres will be able to handle returns, exchanges and tailored packaging.
In the first stage, the fulfilment centres will open around the US. It will remain to be seen how the network expands elsewhere and on what schedule. However, what will be interesting will be whether European merchants will be able to take advantage of the American fulfilment centres straight away.
Shopify will aim to build the fulfilment centres to be extremely scalable. At first they will serve merchants who dispatch 10 to 10,000 orders a day from the centres. The aim, however, has been set higher: up to 30,000 orders a day.
API updates – a fresh interface
Shopify has launched a bunch of new interfaces which make using new capabilities possible, including from the app and integration perspective. Of these, perhaps the most interesting are the Translations API, and the Fulfilment API for easier integration of dispersed logistics and further optimized multichannel supply chains.
The message from Shopify was also clear: in future the new interfaces (APIs) will be based on GraphQL technology, even though the old REST interfaces are not going to be retired. 
GraphQL reduces the number of queries made to the server and thus speeds up and eases making apps and integrations. Even though the Shopify REST interfaces have been very well thought through and implemented, numerous interface queries have been needed when it has been necessary to combine various data types, such as order, product and customer data. GraphQL, which is a type of interface query language (in a way, for interfaces, corresponding to the SQL used in databases), will make it this easier by combining these data into one query. 
To speed up app development, Shopify has also announced that it has updated its 10 most popular open source code libraries to support GraphQL standard-compliant queries.
You can see the updated APIs and libraries here and you can read more about GraphQL here.
Shopify Unite and Shopify develop even faster
Shopify will continue on its chosen development path, which will combine adopting the SaaS-based e-commerce platform with low-cost development and maintenance and creating new capabilities for the online merchant. Shopify will offer the same opportunities to a new Finnish entrepreneur for building international business as it will for a global corporation. Thus, Shopify will democratize international business. This is an important value of Shopify's operations.
The Shopify Unite event is intended for Shopify partners and developers and it is the most important event of the year in which Shopify talks about the future. Many new features can be significant for apps downloaded from the app store. For this reason, Shopify usually launches the APIs or interfaces as the first of its functions, so the whole ecosystem has the time and opportunity to adapt to the new features. Thus, there is time to update apps and services to match the new capabilities of the Shopify platform.
Generally, new features progress in such a way that first the API or entire functionality is launched in the Developer Preview space. The developer community can test the new functionality, comment on it and adapt its own connected services to it.
For merchants, the functionality is launched later, when it has been given its final form and been tested. With larger changes, merchants should check that the apps they use support the new functionality. Of the launches this year, multilingualism is a good example of a capability that affects almost everything and all apps.
You can read more about the new features and more details on the above in Shopify articles: 
Read more about the mood at Unite: