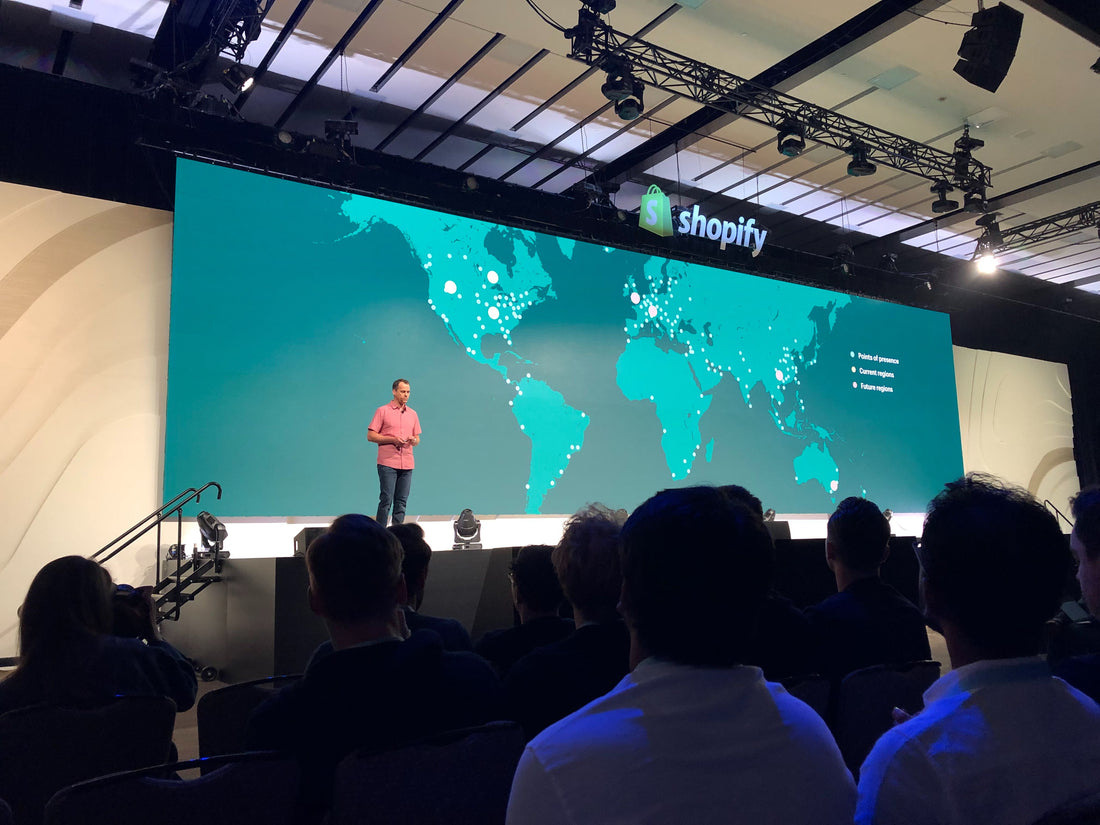 Welcome to the new Silk Road
The second official day of the programme began with an excellent presentation from Shopify CTO Jean-Michel Lemieux, who talked about the Shopify development philosophy and the technical solutions under the bonnet. In brief, Shopify aims to be a powerful, safe digital Silk Road of commerce which allows online brands of all sizes to grow.
Particularly impressive from the Finnish perspective were the world's largest Shopify stores' sales figures and the visitor peaks they had achieved, for example on Cyber Monday. It can no longer be said that Shopfiy only suits smaller or medium-sized online stores.
As Shopify develops it is used by more top brands, both online and as a PoS solution in brick-and-mortar stores. Some of the brands that trust the Shopify Plus solution mentioned in the presentation were Colgate, Godiva, K-Swiss, Steve Madden, SodaStream and Victoria Beckham.
After the main morning presentation we went into greater depth about what was behind the releases. In particular, we got to grips with new interfaces that can be used for building apps or integration for new opportunities.
The merchant is not forgotten

The afternoon sessions focused, in addition to technical updates, on Shopify's own operating methods. Woolman Growth Hacker Mikko Rekola participated in a round table discussion on the topic of building top teams. Shopify Recruitment Lead Marit Kalf facilitated the event.
Kalf skilfully explained Shopify's practices in hiring, creating agile teams and trying to understand the changing product development needs of online retailers as well as possible. For example, we should move away from excessive documentation, and different teams can use very different communication tools.
The most crucial reminder was that e-commerce is still a young business, which presents certain challenges. Digital commerce is, however, one of the fastest growing business sectors. 
At the end of the day, there was a range of panel discussions. One of them, which was interesting from a Finnish perspective, concerned the first steps of online commerce in regulated goods in Canada. Also of interest were methods for quickly and legally authenticating identity online. In the online sales of products, the online sale of health and well-being trends was seen as a rising trend.
The day ended with an inspirational presentation by Atlee Clark which summarized the most crucial lessons from both days. This event also stressed how Shopify respects online merchants and their abilities to do business even more efficiently than before. It also revealed the schedule for updates from the perspective of developers and service users, that is, merchants and store customers.
Text: Mikko Rekola, Growth Hacker, Woolman
Read more: