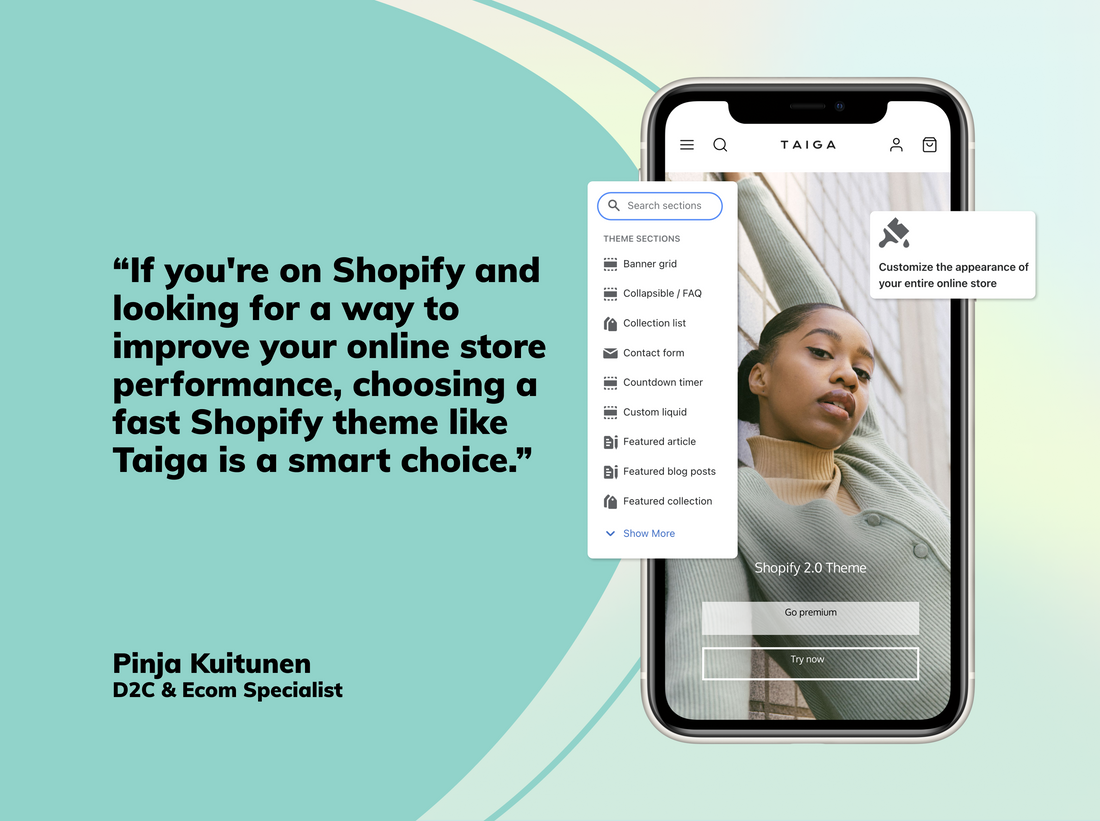 In the world of e-commerce, speed isn't just a luxury; it's a necessity. Customers demand fast, responsive websites, and search engines reward them with higher rankings. If you're on Shopify and looking for a way to improve your online store performance, choosing a fast Shopify theme is a smart move. In this article, we'll explore which factors construct the fast Shopify theme and introduce you to Taiga, an official Shopify theme designed for speed and success.



Why Online Store Speed Matters
Online store speed is a critical factor that influences both user experience, visibility and in the end of your total revenue.


User Experience: Slow-loading pages frustrate visitors, leading to higher bounce rates. Fast online stores keep customers engaged and satisfied.
Conversion Rates: Every second of delay can cost you conversions. Speedy online stores have higher conversion rates, resulting in more sales.
SEO Benefits: Search engines prioritize fast websites in their rankings, which means better visibility and more organic traffic.



"A one-second website speed improvement can increase conversions for mobile users by up to 27%" -

Google



From which factors the site speed is built?
In the Shopify ecosystem, a speed site is built by two factors: things you can control and things you cannot.


You can control:
Themes
We recommend using only official Shopify themes because to be accepted into the Shopify Theme Store, a theme must have a minimum average lighthouse performance score of 60 across the home page, product page, and collection page.


Apps
Different apps might add some code to your theme. We recommend always previewing the app before installing it and removing all apps you do not use. Please note - always removing is not enough because the app might have been adding some code to your theme in the installation process.


Theme or app features
With a professional Shopify developer, you can optimize your theme even further and optimize the features you use, and remove those you do not use eg. heavy javascript.
You can't control:
Shopify infrastructure

Global servers hosted by Shopify - See the live performance:

Shopify Status

.

Content delivery network (CDN) provided by Shopify which relies on Cloudflare's technology: 

Cloudflare status page

.

Browser Cache



How to proceed
To begin to analyze your current store performance status and how fast your Shopify theme is - we recommend running a speed test with Google Pagespeed Insights.

On Shopify, you can find already online store speed report that relies on Google Lighthouse. They have a well-documented article that opens the report more in detail here: Online store speed report

When you get the report - Shopify has an article about how to improve online store performance: Learn how to improve your store speed. Pretty often these things are technical so we recommend hiring an experienced Shopify developer - Contact Woolman.

Taiga - A winning Shopify theme in speed
Taiga theme is a modern and super-fast Shopify theme launched in January 2023 on the Shopify theme store. Taiga theme is a top choice for brands and developers that value visual freedom and high performance. For example, a well-known jewelry brand Daniel Wellington trust on Taiga's fast theme performance.



The inspiration for Taiga-theme originates from the overall development of the Shopify storefront as well as making developers' work easier. Taiga is built on a modern codebase that enables lightning-fast speed, giving the best possible browser experience. 

In terms of modularity, the Taiga theme's codebase is organized into discrete modules that can be easily modified or replaced as needed. This makes it easy for developers to add custom functionality or remove unused code without affecting the overall stability of the theme. Taiga theme has been built by following Shopify's best practices and developed even further: eg. Taiga has its own snippet for picture downloading and only downloads javascript on-demand which makes it a fast Shopify theme.
What makes the Taiga theme unique?

1. Lightning-fast speed
2. Efficient & Modular codebase
3. Video support in multiple sections
4. Easy to master layout and layout utility structures

In overall, Taiga gives you wide section-based design settings. In addition, there are over 10 different ways to use video in store front that make it a 100% unique theme. There is no other Shopify theme giving such support for videos without customizing and building own sections.





Author: Pinja Kuitunen | Linkedin