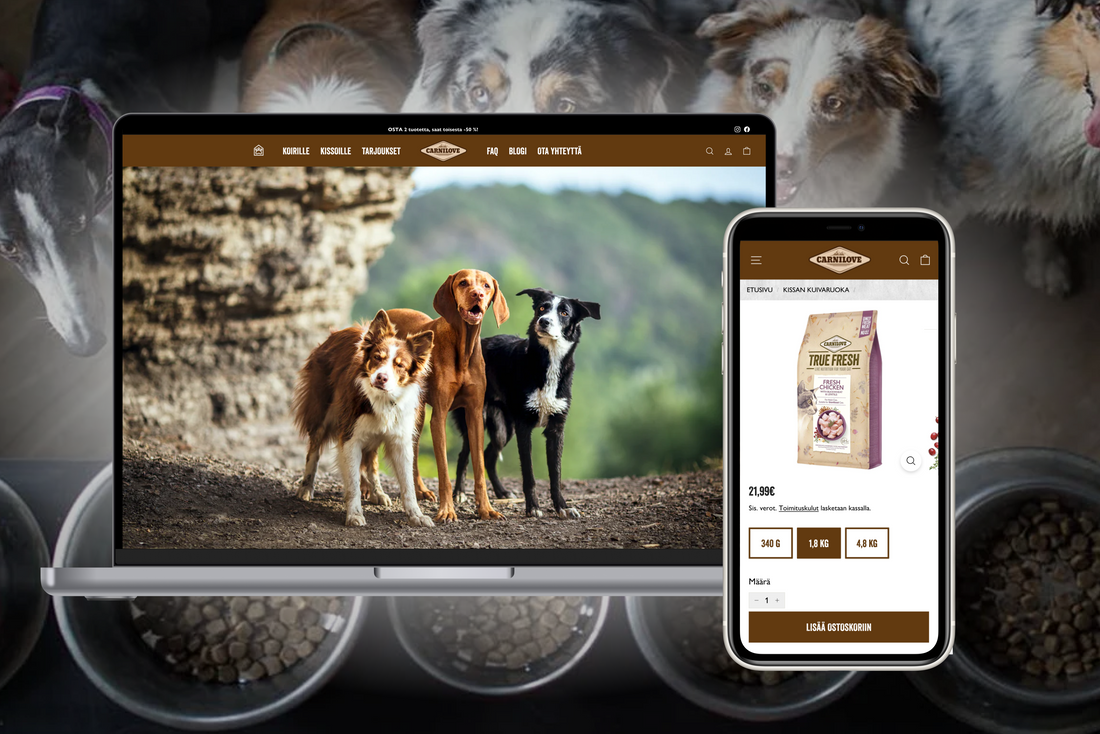 In this case study we cover 
Why Pet food brand Carnilove, part of Vafo group decided to launch a D2C business  
Why they started to work with Woolman and the process of the project
What we achieved with Carnilove
The challenge and opportunity with a D2C launch
Carnilove is one of the pet food brands of Vafo Group - a leading European premium pet food producer. With a house of brands, Vafo Group makes dry foods, wet foods, snacks and supplements made from fresh, organic, and niche ingredients.
Most of Vafo Group brands have traditionally been selling through retailers but since the D2C movement explosion in the retail sector, they saw the opportunity the pet food industry was utilizing and set goals of launching D2C concepts for all their brands, starting with Carnilove.  
Although a popular brand both in its origin country Czech republic and in the UK, Carnilove is still a new brand in the Nordics where the first eCommerce store was decided to be launched. Although relatively unknown in the new market, Carnilove products are high-quality and offering a wide spectrum of carefully selected meats - a perfect match for the niche consumer segment that is known to favour premium quality products for their beloved pets.
With the plethora of brands that Vafo Group owns, there was a fear of upsetting current retailers with opening D2C channels for the brands. Vafo group decided Carnilove was the safe choice to test the waters in a new market and so the D2C project was launched. 
Why Carnilove decided to work with Woolman
As Shopify was chosen to be the platform due to it's easy and rich ecosystem it was a no-brainer to work with Woolman as leading Shopify partner in Europe. Woolman has in-depth knowledge around the D2C world but also insights to the pet food industry's current trends. 
The cooperation with Woolman and Carnilove started with the Shopify project where the store design, store features and specific customers were brainstormed and decided together. The majority of investments were focused in the customer acquisition rather than the technical implementation to ensure the right customer base is found and the business can be scaled effectively. This is why Woolman's growth team jumped onboard during the planning of the launch to create a customer acquisition strategy for Carnilove. 
Launching a subscription-based D2C store 
In D2C launch service the focus is to support and teach the merchant to run a Shopify store, plan campaigns and understand the customer acquisition models. When starting a new business there is a lot to be learned and taken into account, and many questions a merchant needs support with. 
Woolman helped in all aspects of launching a D2C store, starting from the design of the store, to technical implementations such as connecting Carnilove's ERP systems to the Shopify store, so that Carnilove can handle logistics independently. Next came concepting the D2C model, where the subscription-based service was chosen, as it has been recognized as an effective concept in the pet food industry as it offers convenience to the customers and increases customer lifetime value. 
The growth team at Woolman wanted to have the customer acquisition plan set for the upcoming months, so that the analyzing and tweaking of the performance of the campaigns can happen immediately.  To plan how to advertise, the first step is to address who to advertise to. Vafo Group already had a lot of customer data and had done excellent research beforehand on customer profiles which made the whole process easier. Already at this point (a few months after the launch), we were able to see some of the hypotheses based on the profiles come true. Using that research as guidance, we created audiences in Meta and Google to find the most potential and likely first customers.
The competition is intense, and launching a store almost always requires a campaign to boost traffic. We ideated together with Carnilove what products should be on sale and what kind of discount/benefit would be communicated to the created audiences.


How we set up ad campaigns 
The Meta ad account was structured for two main campaigns - NCA (new customer acquisition) and RETA (retargeting). NCA campaign ads are essential when launching a new store to drive plenty of traffic to the site. With the RETA ads Carnilove is able to reach people who have already visited the site.
With Google Ads we are experimenting with different ad placements and search intent more than audiences (like in Meta). We divided the regular search campaigns to branded keywords and keywords that don't include Carnilove as a search term. This way we make sure to target people who are already familiar with their brand, but also people who are looking for similar products but haven't necessarily heard of Carnilove before.
The main campaign type with Google Ads for ecommerce is Google Shopping, which we are using as a part of Google's relatively new campaign type Performance Max. With Shopping campaigns we can show relevant products with essential information (e.g. price). We then used Google's data and insights to divide our asset groups between whether the browser is interested in cat food or dog food. In addition we are used the data from the store itself. If someone has already viewed, for example dog food, they might be interested to know there's a sales campaign for it at this very moment.


Generating sales with email marketing 
To support customer engagement and retention, Klaviyo was chosen to be used for email marketing and automations. Klaviyo is a perfect tool due to the intuitive user experience, personalizatio options, and integrations to Shopify and other apps in the ecosystem. 
When opening a new store the immediate focus tends to not be in email marketing and retention tools, as there is a high pressure to get the first buying customers. However, customer engagement should step into the picture in early stages and that's why we wanted to do basic setup to Klaviyo in the beginning. This included elements like email template design, basic flows and segments.  
Klaviyo's integration with Shopify and essential marketing platforms makes the process relatively easy. This allows us to make highly personalized product recommendations within the newsletters or customize abandoned cart emails based on the amount of money the customer was about to spend.
When we are collecting newsletter subscribers with for example Meta advertising, the integration with Klaviyo allows us to use our time to make our ads and content better, instead of collecting the subscriber information and exporting it then to our email platform. We can also use the customer data in Klaviyo to do target advertising very specifically.
The ease of use also applies to creating marketing automations (flows). The use of triggers and segmentation lets us build the "technical part" of flow in a very short time, and most of the work is about creating the content. Even with a basic/essential flow such as welcome flow, we generated an impressive number of subscribers and plenty of sales during the first months of launching the store.


Carnilove is now well-positioned for sustained growth
The case study of Carnilove's D2C launch highlights the importance of careful planning, a customer-focused approach, and strategic use of digital marketing tools. By partnering with Woolman, Carnilove was able to successfully launch a subscription-based D2C store that caters to the niche audience of pet owners who prioritize high-quality food for their pets. 
Through effective customer acquisition campaigns on Meta and Google, as well as email marketing and retargeting efforts, Carnilove is well-positioned to generate sustained growth and loyalty among its target market. The case study serves as a valuable reference for other brands looking to enter the D2C space in the pet food industry.