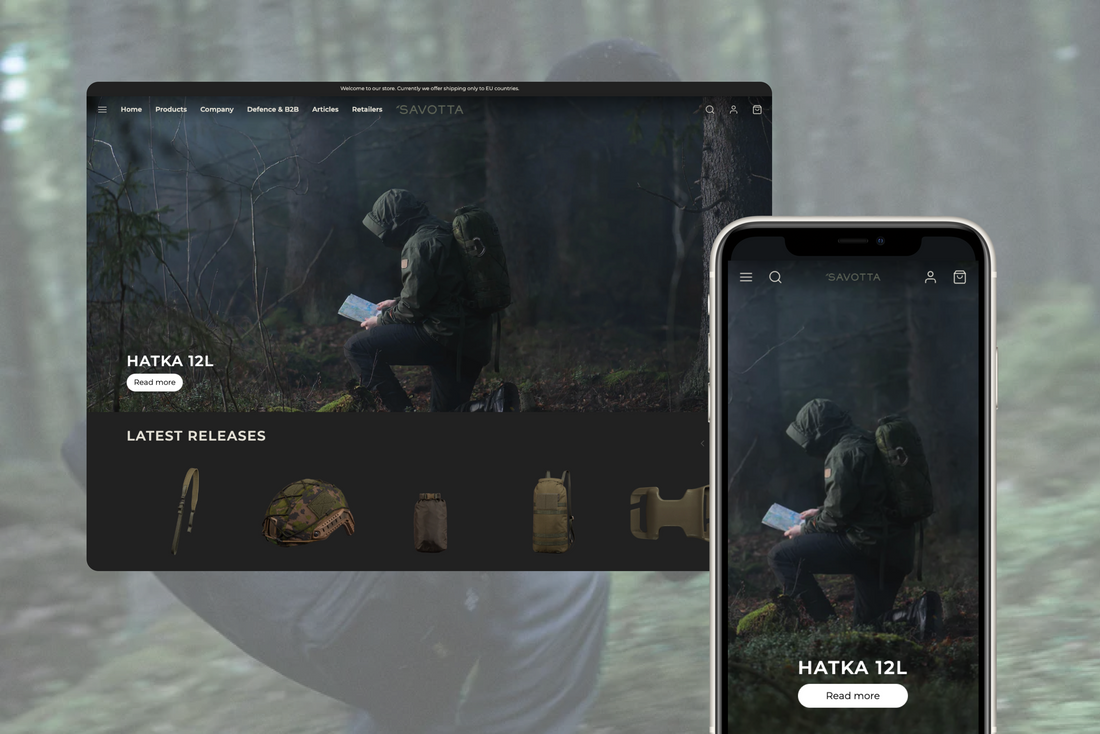 Savotta is a family-owned company from Finland established in the 1950's, designing and manufacturing high-quality functional equipment for demanding professional and recreational use in extreme environments. With goals of globalising the business, they knew they had to take steps forward by developing the best eCommerce experience for their customers. Savotta has come far from where they have started to make their goals a reality by focusing on the right things. From replatforming to Shopify, to upgrading to the new Shopify 2.0 Taiga theme, and expanding to the EU - Savotta has been enjoying the fruits of their labour with steady and consistent growth. Let's take a deeper look at their journey. 
From selling only B2B to selling D2C on Shopify 
Savotta's customers' range from outdoor enthusiasts, military and law enforcement organisations, to humanitarian aid groups, for this reason they do not only produce high-quality equipment but they also do research and have in-depth capabilities to develop and design products- mainly small accessories, backpacks, sleeping gear and special purpose tents. Their product development and main production facilities are in Karstula, Finland, but they also manufacture products in Estonia. 
For many years, Savotta was selling through wholesalers until they realised the opportunity they were missing out on by not selling directly to customers online. They saw it  as a simple and modern way to increase their reach to different customers. With B2B selling they experienced certain limitations with the product range,  which is why starting D2C operations allowed for more flexibility and freedom with the products they wanted to sell. 
"By selling directly to the consumer, we get to decide on our own selection of products, whilst with the wholesalers we don't have control of the range of products they want." - Eetu Väinämö, Marketing Manager 
In the beginning of their online journey, Savotta had their official website and the webstore where the products could be bought separately, which quickly they noticed as a major inconvenience. After some research, Savotta decided on Shopify as the best eCommerce platform and migrated so that they could have a smooth-running and easy-to-use platform to sell their products. 
"At that time we only delivered to Finland and we wanted a proper online platform that makes it easy to deliver around the world, although at the moment only in the EU region, but the goal is also global delivery." - Eetu Väinämö, Marketing Manager
Finding the perfect theme on Shopify 
Migrating to a new platform didn't solve all of Savotta's challenges. With the new platform, they were looking to have a theme that would suit their unique needs as a business. 
"We were looking at different templates in the Shopify theme store but none of them seem to fulfill the specific needs we had. Even though we have a team creating all the marketing materials, we did not have developers who would be able to customise a theme for us." - Eetu Väinämö, Marketing Manager
As the 2.0 upgrade was released by Shopify, at Woolman it was the right time to develop our own theme - Taiga. With our extensive experience in eCommerce and working with merchants, we knew the features and functions they were looking for.
We reached out to Savotta to offer to work with them, upgrading them to the Shopify 2.0 with the new Taiga theme. In our agreement, we could use their photos in our demo store in exchange for the new website design. 
Taiga theme's capabilities worked well with Savotta's specific needs. For example, the theme offers amazing optimisation options for both mobile and desktop and with the ability to utilise a lot of moving picture in different sections. With a variety of different section options and in-depth customisation possibilities, Savotta was able to have a store that could really highlight the details of their products in the best possible way. 
"With the new theme everything works smoothly. In the old theme, for example, the pictures didn't optimise well on the site and the loading time was slow - now its fast." - Eetu Väinämö, Marketing Manager
Savotta decided to buy additional customisation services from Woolman to add a few more extra features that were not available in the theme yet. With the constant feedback loop, the team at Woolman are able to keep developing the theme and add different features based on the feedback given. 
How has Savotta found the cooperation with Woolman? 
"Sometimes it feels like Woolman can read our thoughts and we have managed to achieve the most important things together. It was nice that Woolman is active in reaching out and pushing things forward." - Eetu Väinämö, Marketing Manager
Whats in the foreseeable future for Savotta? 
We are in a continued partnership with Woolman so that we can continue with our development goals. Our aim is to be able to sell internationally in our online store." Eetu Väinämö, Marketing Manager
Would Savotta recommend the Taiga theme?
"Absolutely, if you want a modern and easy-to-use theme, Taiga is for you." - Eetu Väinämö, Marketing Manager
Are you ready to level up your Shopify store? Try Taiga now