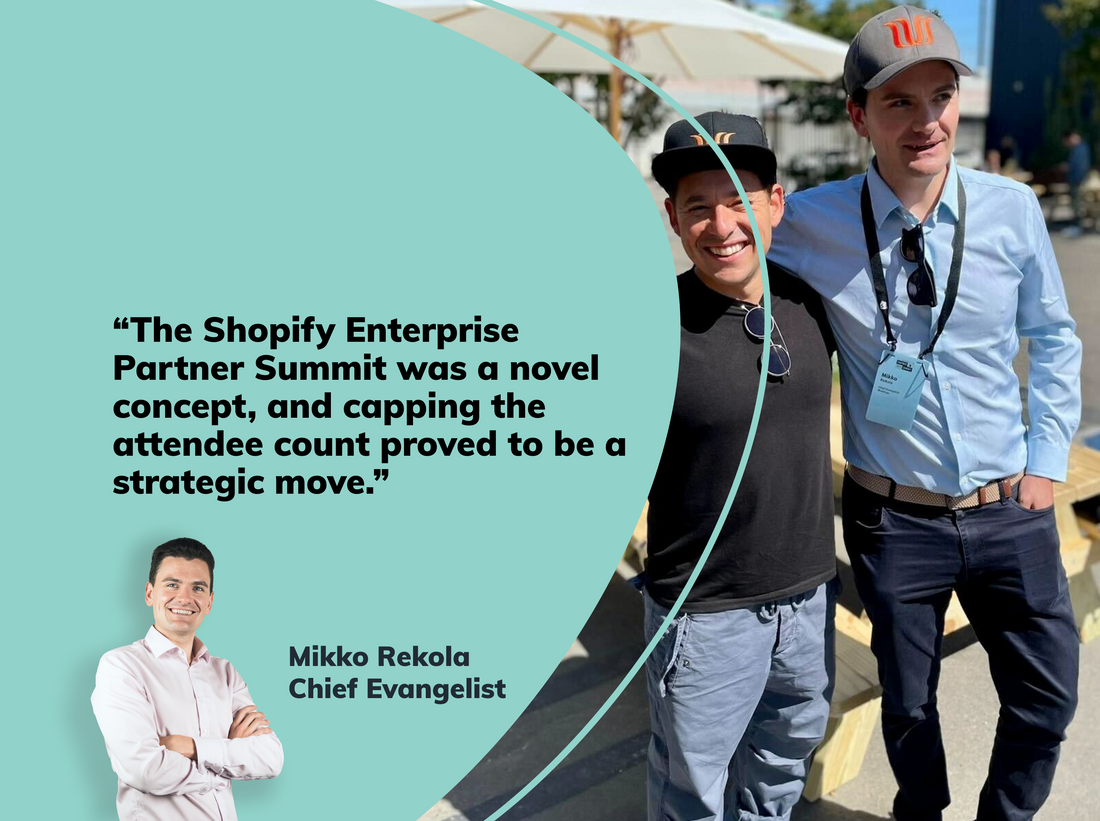 The recent Shopify Enterprise Partner Summit in Los Angeles was brimming with announcements, updates, and platform enhancements, solidifying Shopify's reputation as an enterprise commerce platform working with some of the world's most esteemed brands. Mikko Rekola, Chief Evangelist at Woolman, lauded the summit's inventive structure, remarking:
"The Shopify Enterprise Partner Summit was a novel concept, and capping the attendee count proved to be a strategic move. Engaging in focused one-on-one discussions with Shopify's pivotal stakeholders, major agency affiliates, and a select group of ecosystem app partners was invaluable. We're hopeful this summit format becomes a recurring tradition."
Diving deep into the summit's foremost revelations and insights:
Financial Highlights
European Revenue:

Europe accounts for a significant 16% of Shopify's total revenue, underscoring the platform's expansive growth within the continent.
Platform Updates
Shop Pay:

Shop Pay reinforces its dominance, emerging as the top checkout preference on Shopify, elevating user convenience.

New Markets PRO:

Await the rollout of pioneering features in the imminent Shopify Markets PRO updates.

B2B and D2C Synergy:

The summit spotlighted the mutualistic alignment between Business-to-Business and Direct-to-Consumer strategies, accentuating their cohesive potential.

Omni-channel Capabilities:

Shopify pledges to polish its omni-channel functionality, fostering uninterrupted shopping experiences across diverse touchpoints.

Backend Revamp:

Major alterations and enhancements are underway for Shopify's backend infrastructure.

Point of Sale (POS) Updates:

A notable advancement allows sales representatives to augment bills with items dispatched directly to customers. Additionally, the UK can soon expect the introduction of POS GO devices.

Operational Tools & Compliance:

With compliance emphasized recurrently, merchants can anticipate advanced tools and resources to streamline operations and ensure adherence.
Payment Systems Innovations
Adaptable Payment Processes:

Shopify is primed to unveil sophisticated payment customization options.

Payment Gateway Assortment:

Merchants are presented with a vast array of over 800 payment gateways.

Catalogs:

Heeding client feedback, store-specific pricing is slated for incorporation into Shopify POS's future roadmap.
AI Integration and the Horizon
Welcoming Sidekick:

A cutting-edge Artificial Intelligence utility, 'Sidekick', is set to debut, already generating intrigue among enterprise clientele as evidenced by a fresh demo reel.

Shopify Markets Pro in the UK:

The subsequent year's latter half is earmarked for this feature's grand UK premiere.

Shopify POS Support:

Shopify Markets is poised to integrate support for Shopify POS, though the precise launch timeline remains confidential, fostering eager anticipation.
In essence, the Shopify Enterprise Partner Summit delineated an auspicious path for this commerce giant, as it ardently ventures further into the enterprise realm. Shopify reiterates its dedication to delivering unparalleled experiences for both brands and consumers.
Tune in to the latest episodes of the Commerce Insight podcast! Our Chief Evangelist, Mikko Rekola, sets the stage for both technical and commercial analysis of the Shopify Enterprise Summit.