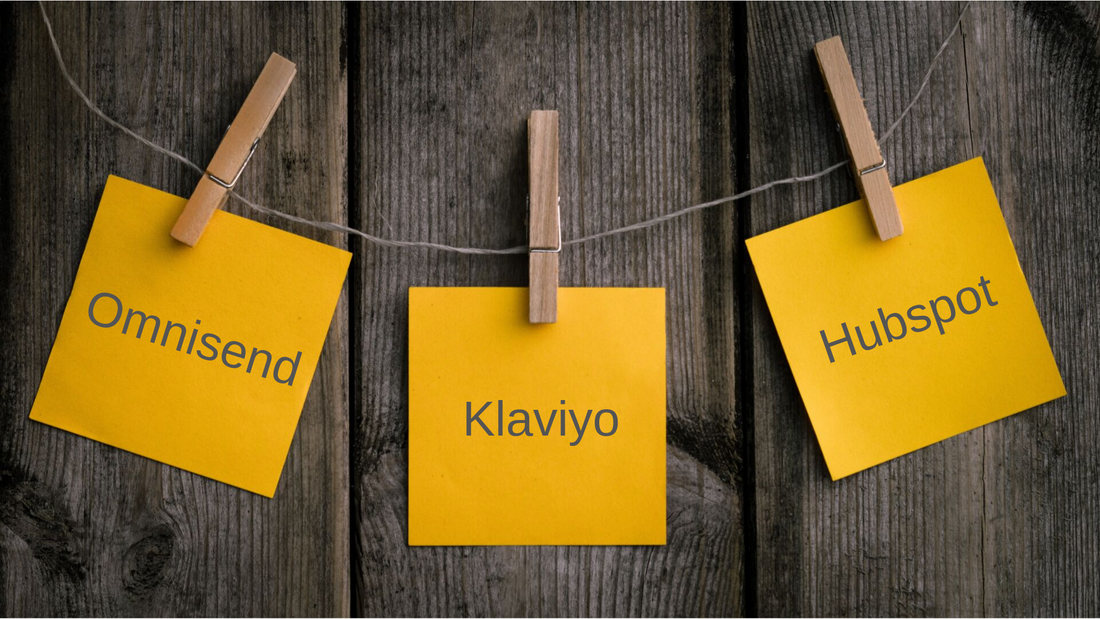 Using marketing automation in your online store can, at best, save you time, make your everyday work easier and boost your efficiency. Several automation platforms are available, but only some of these work seamlessly with online stores.
The three we've picked for comparison have the critical core functions that eCommerce marketing automation needs: product and purchase information comes automatically from your online store, they have powerful email workflows (such as abandoned basket reminders), and they offer diverse marketing testing options.
These software options work in the cloud, in a browser and as a mobile app. Omnisend, Klaviyo and HubSpot are leading platforms in this field and are used by thousands of websites, not just globally, but also in Finland.
Omnisend
Omnisend is one of the world's most popular email marketing platforms. They offer a 14-day free trial.
Its easy drag-and-drop function allows you to quickly create emails. It fetches products from your store allowing you to use them in your campaigns and emails. You can also add videos and discount codes to your campaigns and emails among other things. What's more, it has ready-to-go email templates.
Connecting your online store with Omnisend is easy. It works also with many other channels such as Facebook Messenger, WhatsApp and Viber.
Pros:
14-day free trial
Price: Omnisend has different pricing levels: Free, Standard, Pro and Enterprise. These packages have also different features which makes it easier to choose from them.
Connecting your ecommerce platform with Omnisend is relatively easy. With most popular platforms it takes just a few clicks.
Cons:
Email campaigns can't be designed as detailed as other solutions but overall they offer a great package.
Klaviyo
Klaviyo is one of the world's leading email marketing automation platforms aimed at ecommerce.  It is also able to fetch any required product and purchase data from your online store. With the segmentation feature you can use page visit data, for example, of product pages that people have visited.
You can also branch automated abandoned shopping basket workflows: shoppers who forget a more expensive basket get an email informing them of free delivery, while shoppers with less expensive abandoned baskets just get a standard reminder.
One of the best features of Klaviyo is its out-of-the-box Best Practice automation templates. Instead of creating the automated functions from scratch yourself, you can choose readymade, tested workflows for things like welcome emails and abandoned basket reminders.
Even though Klaviyo mostly focuses on emails, it also integrates well with Facebook ads, CRM systems and many other software programs. 
Pros:
Ready-to-go Best Practice automation templates
Rich tools for email automation and testing, and email marketing development
Detailed reports, especially on ecommerce sales, ROI and list comparisons
Cons:
Price: Klaviyo is free for up to 250 contacts, but after that it's more expensive than Omnisend's Standard package
HubSpot
Compared to the two platforms above, HubSpot has a significantly wider range of marketing options. The above segmentation options on Omnisend and Klaviyo are also available on HubSpot.
As well as email and segmentation automation, you can publish all your social media content on HubSpot. You can quickly create separate campaign pages and add content to your store that shoppers will only see if they are part of target groups, such as loyalty programme members. On HubSpot, you can carry out all your marketing activities in one place.
In addition to extensive marketing features, HubSpot includes a free CRM system and you can expand your licence to sales automation. This is especially useful for a webstore with B2B clients and sales staff.
Compared to Omnisend and Klaviyo, HubSpot is more complicated,  but is still among the world's leading marketing automation platforms, of which it is definitely one of the easiest to use. 
Pros:
Really varied: you can personalise it and automate it to specifically suit your business's needs
You can manage almost all your business's marketing in the same place
HubSpot Academy with its free learning videos, instructions and free support service
Free CRM for sales
One of the world's leading marketing automation platforms
Cons:
More difficult to use than Omnisend and Klaviyo
Price: to get the marketing automation features you have to pay hundreds of euro However, HubSpot does have a dedicated discount programme for startups. At the start of the programme the discount can be as much as 90%, after which the discount percentage gradually drops.
Whichever platform you choose...
Remember to prioritise your time and concentration on getting started with your new system. Even an easy-to-use IT system takes some learning: a new and unfamiliar system is time-consuming at first, but as you learn to use it, it gradually saves you time.
To work, marketing automation needs content, such as emails and social media updates. Remember to make time for writing this content so you can start using the automation.
The most important thing is to keep a clear goal in mind and move towards it one step at a time. First, do one email workflow. Only move on to the next when you've got the first one up and running. Start with the most critical automation for your online store and then gradually move towards smaller details. This way, you can avoid half-completed projects and achieve results faster.
Silja Patrikainen / Woolman
Want to read some more?