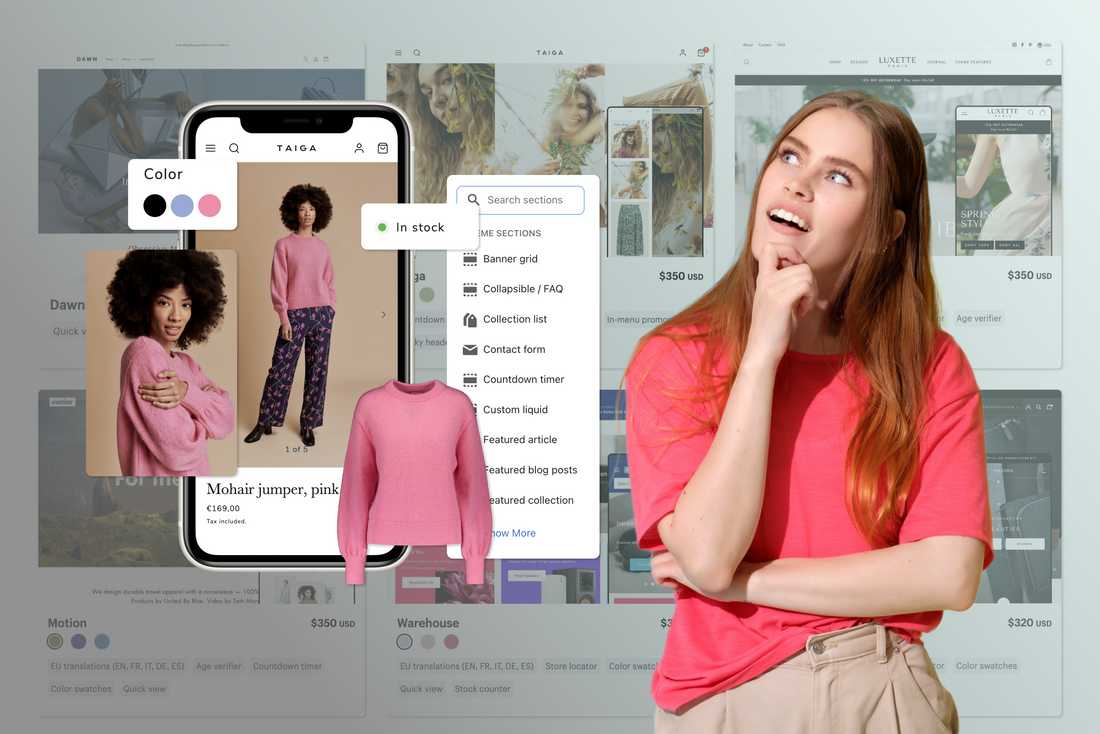 Choosing the best Shopify theme is an important part of your Shopify journey. The layout of your products and the user experience is crucial to keep customers engaged and easily find what they are looking for. In addition, the functionalities in the theme should make your life easier as a merchant and enable you to make customisations to give the website the personal touch it needs. 
There is a plethora of Shopify themes available in the theme store. That is why we decided to list some of the best Shopify Themes in 2023 (In our opinion) and highlight what the key qualities in each of them are. 
Highlight features: 
Lean and fast with minimal Javascript

Accessibility-focused design: Includes built-in features that make it easier for customers with disabilities to navigate and use your store, such as high-contrast colors, adjustable font sizes, and ARIA labels. This can help you reach a wider audience and create a more inclusive shopping experience.

Multi-level menu navigation: Includes a multi-level menu navigation system that allows you to create a hierarchical structure for your store's categories and subcategories. This makes it easy for customers to find what they're looking for and navigate to different sections of your store.

Product filtering: Includes a built-in product filtering system allowing customers to refine their search results based on various criteria, such as price, color, size, and more. This can help customers quickly find the products they're interested in and reduce the likelihood of them leaving your store without making a purchase.
Price: Free
Highlight features: 
Speed-optimized and quality code: Taiga is fast-loading which is highly important for the user experience to keep customers on the website and increase the likelihood of converting. Quality code is important for a secure website and it makes it easier for modifications and customizations. 

A wide range of sections: Taiga has over 20 different sections, and they are all optimised for desktop and mobile and effective use moving picture. This means you have more choices with how you want to present your products and bring them more visually alive. 

In-depth customisation possibilities: A range of customization options that allow you to tailor the theme to your brand and preferences. With the drag-and-drop sections and blocks it is easy to create custom pages throughout your store that look unique and professional without special coding. They also have a great team of developers who can make customisations based on your feedback. 
Price: 
$
350 
Highlight features: 
Customisable homepage: Choose from a variety of pre-designed sections, such as image galleries, featured product grids, and promotional banners, and arrange them in any order you like. This makes it easy to highlight your best products and promotions, and create a visually appealing storefront.

Quick buy functionality: The Quick Buy feature allows customers to add products to their cart without leaving the current page. This helps to streamline the buying process and reduce friction for customers, leading to higher conversion rates.

Mobile responsiveness: Fully optimised for mobile devices and functions well on smartphones and tablets. A key feature in the growing world of mobile commerce. 
Price:
$
350
Highlight features:  
Dynamic product grid: Show multiple images of each product, along with additional product information such as prices, ratings, and reviews. This can help make your products stand out and increase the likelihood of customers making a purchase.

Video backgrounds: This feature allows you to add a full-screen video to your homepage or other pages. This can help grab visitors' attention and make a strong visual impact. You can choose from a selection of pre-designed video backgrounds, or upload your own custom video.

Mobile-first design: optimised for mobile devices. The responsive design of the theme adapts to different screen sizes easily. 
Price: $350 
Highlight features: 
Advanced capabilities for large catalog: best suited for large online stores in mind as its specifically designed to effectively display and promote a sizable product catalog. With the advanced search and filtering capabilities it is easier for customers to navigate the pages without the overwhelm.

Adaptable layout: provides you with the ability to create a distinctive display of your products and content with the customisation possibilities. 

Easy to use and minimal coded needed: The theme is intuitive and user-friendly, makes it a great choice even for beginners 
Price: $320
Highlight features: 
Well-designed and functional: It has a wide selection of built-in features such as drag-and-drop sections and blocks, checkout process, navigation and filtering options, and SEO features. 

Flexible: The theme styles are very adaptable for different type of businesses, with many customisation options with colours and fonts.

High-end design: If you are looking for a luxury feel to your store, the design of the theme is sleek, clean, and minimalistic, which makes your images look very high-quality and gives your brand that high-end impression.
Price:
$320 
Highlight feature: 
Great design: This theme won the "Shopify eCommerce Design Award Competition". It has a variety of blog templates, social media icons, logo lists and image galleries that makes the store a visually appealing shopping experience for customers and allows for beautiful storytelling 

High-resolution images: Images are optimised for different screen sizes, giving them sharper and more detailed visuals, helping customers have a more engaging browsing experience. 

Extensive support documentation: There is a Theme Help Center that has documentation around how to set the theme up and customise, as well as video guides with clear instructions to get your store up and running in no time.
Price:
$220 
Choose a theme based on your unique needs 
Finding the best theme depends on your industry, products, and your specific needs as a brand - however these themes are versatile due to their customisation possibilities. Other crucial component to look out for is the performance of the theme, which includes site speed and image optimisation. Lastly, having great customer support is extremely valuable as you may run into some issues using a theme or you might want further assistance with customising. 
Whilst choosing the best Shopify theme will certainly increase the probability of conversions, there are many more components that are necessary to have in place to truly win over customers. 
Interested to learn more? Listen to our Commerce Insights Podcast.