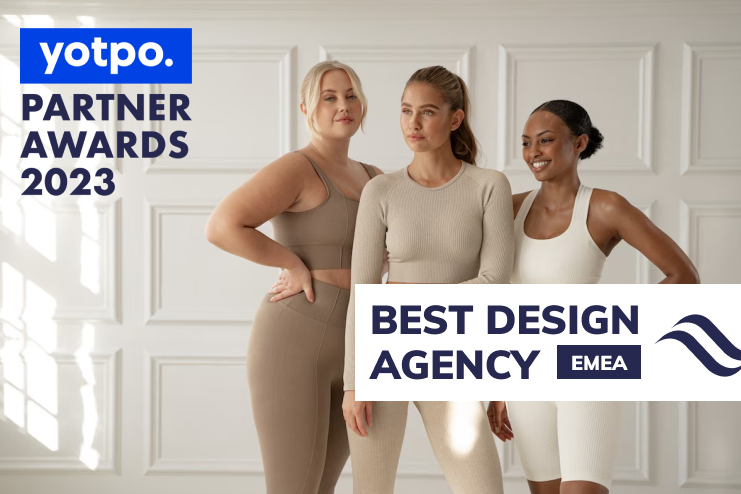 "World-class agency designing seamless, user-centric and highly creative eCommerce experiences, and pushing the boundaries of Yotpo's platform to delight customers with engaging loyalty programs and conversion-boosting UGC assets across the user journey." - Yotpo Solutions
The Best Design award was awarded for our work with Aim'n, the Swedish global athleisure brand. We partnered with Yotpo Solutions to help Aim'n scale its business and expand its global footprint. Winning this prestigious award is a testament to our team's exceptional creativity and design expertise in the competitive world of eCommerce. 
At Woolman we are committed in building a supreme online experience for customers and we wanted to make it easy for aim'n customers to find the right products for their active lifestyles. We worked closely with Aim'n and Yotpo to implement advanced features of Yotpo Reviews such as filters, search, and customer photos, making it easier for shoppers to find the right products for them. As Aim'n expanded into new markets, we leveraged Yotpo's multiple language capabilities to help the brand connect with customers in their preferred language.
In addition to the Yotpo Reviews, we helped Aim'n launch Dream Club, an on-brand, tiered loyalty program with unique perks and rewards. To incentivize customers to provide product feedback, Aim'n awards them points, promoting both conversion and retention. With Yotpo Loyalty, Dream Club has led to higher customer lifetime value and customer retention, making it easier for Aim'n to engage with its customers and build long-lasting relationships.
The results speak for themselves.
After implementing Yotpo Reviews, Aim'n saw a substantial boost in conversions, while increased ROAS on ads showcasing customer feedback helped them to stand out from the crowd.  Together with Yotpo we have managed to help Aim'n scale their operations globally. 
As a longtime partner of Yotpo, we're passionate about using cutting-edge technology to help brands of all sizes harness their first-party data and build stronger relationships with their customers.
Our growth team works with all our customers to get the most out of our partnerships to create better long-lasting customer experiences. 
With our commitment to innovative technology and customer-centric design, we look forward to continuing to partner with Yotpo to help brands achieve their goals and drive success in an ever-evolving industry.
"Design is a critical aspect of Woolman's success in providing great e-commerce solutions for our clients. Well designed online shopping experiences are in the core of every e-commerce driven business." - Joonas Toroi, Design Lead of Woolman

"I especially want to thank the team and customers! without you there are also no results that we can be proud of together!" - Juha Harju, CEO of Woolman