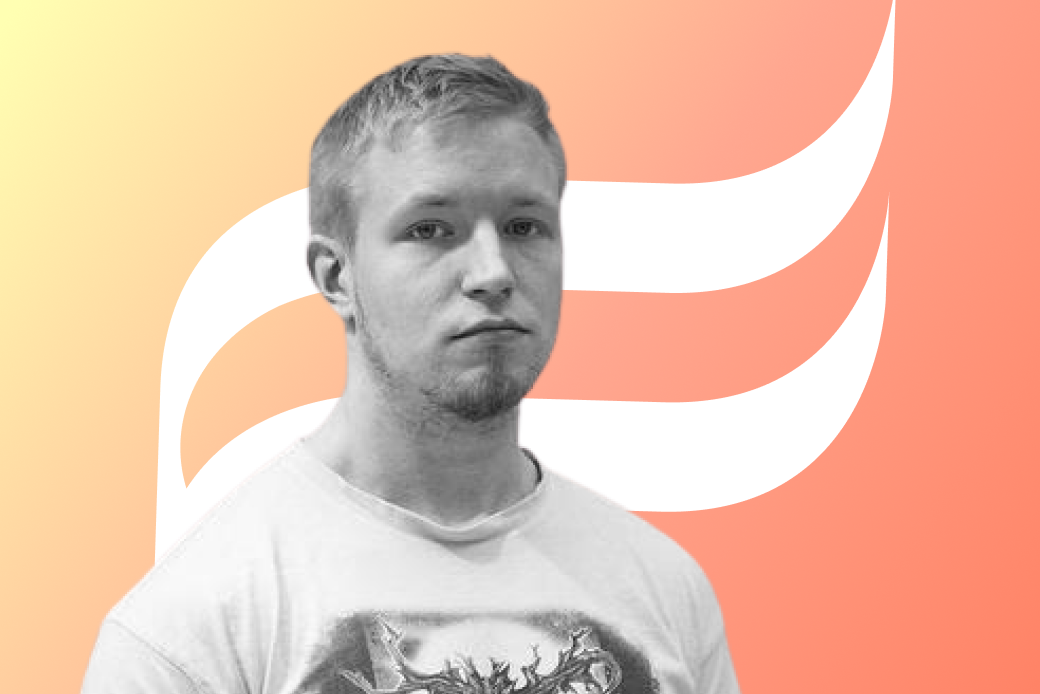 "I don't really think of myself as a developer. I think of myself as a regular bloke who has some development skills and who likes to help customers." 
I made the decision to study coding based on reason. I knew I was going to find work after graduation. I chose the University of applied sciences because of the game development possibilities. I have always been a gamer and coding games came naturally to me. Early on I realized that backend programming and looking at command line code was not my calling. I am highly visual and felt drawn towards frontend programming. 
My first job was a backend developer
After graduating my first job in an ICT company turned out to be mostly backend development. It was Writing code with Java and working with database integrations. There was very little frontend work involved. I did this for a year and knew that it was not my thing. I started talking to my friends about finding a position where I could focus on frontend development. Even though I am a gamer I did not want to work for the gaming industry. The industry is very demanding, the culture is tough and you are expected to put in long days. 
Valuing balance or work life and personal wellbeing
We all learn from experience. I have a history of giving myself second priority. When big personal changes forced me reevaluate my priorities I had to do some serious soul searching to find my ground. I realized that living a balanced, happy life, I need to prioritize my own health and wellbeing. I made the commitment to put myself first. It's just like on the airplanes, they tell you to put your own oxygen mask on before helping others. 
Straightforward frontend tech stack - JavaScript, CSS and HTML   
I heard about Woolman from a friend who worked there. He told me that Woolman was looking for a frontend developer. For recent graduates applying for developer jobs, especially in frontend development, it is quite frustrating. You need to apply for positions even when you don't have the required tech stack. Looking into Shopify development done with JavaScript, CSS and HTML was like music to the ears. The discussions with Woolman went fast, once I said I'd be willing to talk, we talked the next day, met the next week and within a month I had taken 2 weeks vacation and started with renewed energy in 2019. 
I have now worked in Shopify frontend development for two years and managed beautifully with the stack. I am able to specialize in Shopify theme development and there is no pressure for me to master new technologies. If I wanted to learn new technologies, I know I would have support from the Woolman side. 
For me, being able to balance my personal life and work means a lot. I don't work overtime and I do my share. Theme development is quite rewarding and we are able to create visible, tangible improvements for customers quite fast. The development may not be technically very challenging, but the results mean much to customers and to me happy customers mean good everyday experiences at work. 
Recruiters don't speak to diverse interests of developers
I (like all developers who have their faces published on a company page and the word "developer" in their title) get a lot of contacts from headhunters. What always leaves me baffled is the fact that they never tell me anything about the company culture. Instead they offer a stack of technologies that can be used in the position. The first contact is already stifling and frankly doesn't interest me at all. 
If this was the 90's I would never have become a developer. It was a time when the geniuses were creating the technological capabilities pretty much anyone could now use. I think there are more and more people like me, who think of themselves as regular people with some development skills. Today the technology is developed, the techproviders  do continuous improvements and their documentation helps us developers quickly grasp new things.
"Even us dreamers can find our place in frontend development."
Weighing options - salary vs. culture
Some developers prefer generic ICT companies who compete with salaries. In these companies focus is on doing the work you are hired to do. I need more, I need to feel included. We are currently focusing on wellbeing at work and have a dedicated group of developers at the core. It is in our culture to identify problems and solve them together.
Here are some other important reasons I value with Woolman
Openness in culture

Knowing the company strategy

Inclusion and involvement. We are not forced to be, yet always having the opportunity to take part and make changes. 

Internal cooperation - continuously improving ways of working and speeding up learning.
I sometimes wonder what it would be like to take up on a new job offer. Then my first thought is fear that if I changed jobs, culture may not be as good as it is with Woolman and the decision may prove wrong.