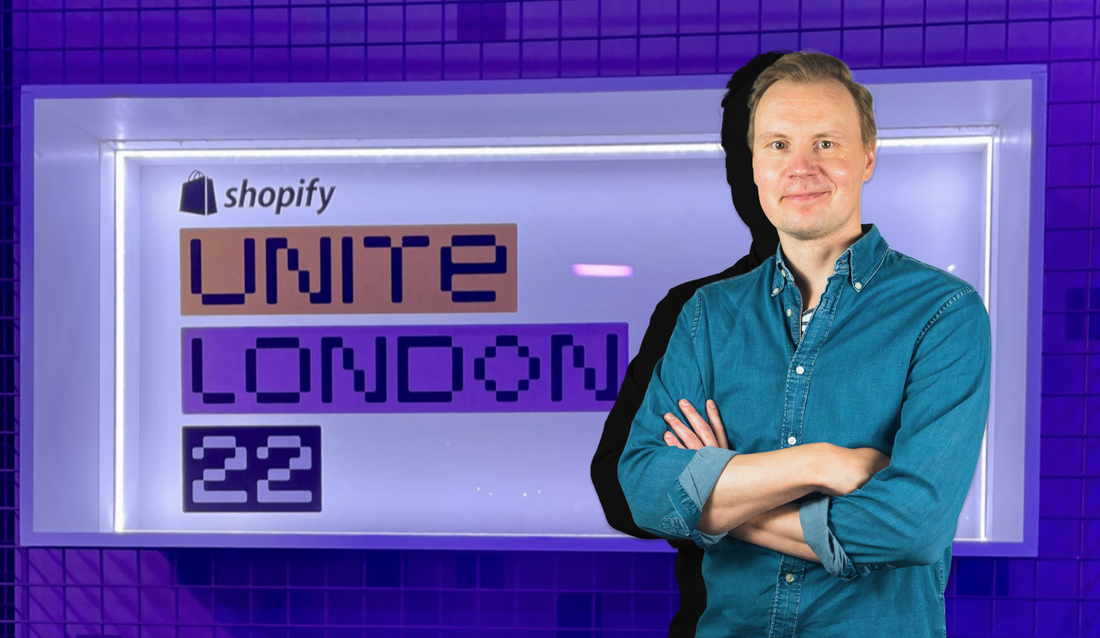 The first edition of Shopify Unite 2022, the biggest Shopify partner and ecosystem event, was held in London this week (12-13 September). Shopify's partner ecosystem as a whole supports 656,000 jobs and generated $32 billion in revenue in 2021, up 45% from the year prior. That's almost 7x Shopify's 2021 revenue so we are talking about a significant ecosystem.
The event this time was much more compact than it used to be before the pandemic but that is understandable since they are organizing a series of events this time and later this year there will be two more events, Toronto and Melbourne. The event was sold out in minutes and maybe that was also a bit of a surprise for Shopify after the pandemic and they unfortunately missed an opportunity to bring even more Shopify ecosystem players together.
The event itself did not bring big surprises or major releases because Shopify is nowadays launching even bigger updates when those are ready and the full schedule of the event was available before the event. I could conclude the two days of the event so that the first day was more developer focused and the second day was more Shopify agency and technology partner focused.
Day 1 – New and latest updates and of course networking 
Day 1 was much about recapping and sharing the news about the latest important Shopify updates and what kind of opportunities those bring to the partners. And also some insights and guidelines for example about how to build better apps etc. There were also a couple new releases and of course networking. And I cannot leave without mentioning that open, warm and welcoming feeling which is a quite special thing with Shopify ecosystem meetups. It was nice to see you all. But let's summarize some of the most interesting topics that were in focus this time.
Hydrogen vs Themes a.k.a Headless vs Shopify Native
About headless vs Shopify native the message was loud and clear. Shopify is taking both baths which is quite obvious and really makes sense. Headless does not really bring anything so important on the table even to most Shopify Plus merchants that it would be the Shopify only or even clearly prefered path to go. And basically for all non-Shopify Plus merchants the native Shopify with themes is the only relevant option. Headless it's probably never going to be as cost effective and simple for merchants than Shopify native already is and Shopify native's enhanced performance and CMS capabilities and completely integrated ecosystem already brings most of the value for most of the brands.
But after that being said, Headless has its place for merchants who are seeking for example unique customer experience or extreme speed and are also willing to invest and have a certain level of technical competence in-house to understand what they are actually building.
Shopify's stack for headless commerce is their own Hydrogen which is a very understandable approach because other existing headless stacks do not support Shopify and its ecosystem well enough. Development has clearly gone forward and they have been solving obvious pitfalls like fresh vs fast content and data collection and also the list of integrated apps and platforms is getting longer. Also Oxygen, which is the hosting platform for Hydrogen storefronts, is now fully accessible from Shopify Admin. This is definitely one of the Shopify initiatives that we are keeping a close eye on. Keep up the good work! 
Shopify Content Platform
One really exciting news is Shopify Content Platform which just became in beta. Special thing about it is that it can be used to publish content with both approaches above, Hydrogen and Online store / Shopify native. More information about Shopify Content Platform after we've had a change to play with the beta.
Checkout extensibility
Checkout extensibility is Shopify's answer for merchants' demand to extend their brand better to checkout and partners to build unique commerce solutions. This comes with a whole new set of features which are illustrated in the picture below. This approach allows Shopify to keep the checkout still very fast, secure and updateable for coming features.
And the same as a checkout UI example.
Some of these are overlapping with current ways to customize checkout with checkout.liquid and Shopify Scripts. Both will stay for now and there are no urgent needs for merchants to do any changes. But these new ones are basically replacing old ways of doing things. Branding API, Web Pixels and Checkout UI extensions are replacing checkout.liquid and Shopify Functions are replacing Shopify Scripts.
Shopify Functions and Shopify
From Shopify Checkout Extensibility feature set Shopify Functions and Checkout UI extensions are the ones to lift up. Shopify Functions allow developers to customize the backend logic that powers parts of Shopify. The first place where Shopify Functions now allow to  extend logic is the discounting logic but Shopify revealed in the event that Functions can also be used with Payment Methods and Shipping. And in that phase Shopify Functions can many ways replace Shopify Scripts. What is also important is that Shopify Functions are available on all Shopify plans while Shopify Scripts are restricted to Shopify Plus.
Currently Shopify Functions allow to create volume-based, buy-one & get-on (BOGO), gift with purchase and tiered discounts.
Checkout UI extensions let app developers build custom functionality that merchants can install at defined points in the checkout flow. Shopify provides different types of extension points, APIs, and components to extend checkout and build custom functionality. For example, app developers can create extensions for custom fields or product offers etc. that render directly in the checkout flow.
And much more!
Of course many other topics were also discussed during the first day like updated developer tools, tips and guidelines to build better apps but those subjects were more for developers. 
Day 2 – Agency and technology partners
Day 2 brought Shopify Plus agency and technology partners on the stage. In many ways this was the most interesting part of the event. Peer-to-peer experience sharing is always fascinating to hear because it is so close to our everyday life. Sharing thoughts face-to-face with our key partners like Yotpo, Klaviyo, Nosto, ReCharge etc. is always a pleasure.
Maybe the cherry on the top from the second day's presentations was the SodaStream case and how they took over their DTC business in 14 different markets and grew 1000% to +$100M (DTC revenue). They saw that these sparkling results were strongly based on three factors:
Leverage the power of Shopify Plus ecommerce platform.

Right partnership not vendorship.

Data platform and isolated individual components.
This is exactly how we see our role. To be the trusted partner who is able to bring the power of Shopify ecosystem from A to Z – from apps and integrations to growth services to our customers. And also help them to utilize the data with our Ellis DTC data platform and data services, to be the true growth engine for their business.
Written by Tero Junttila