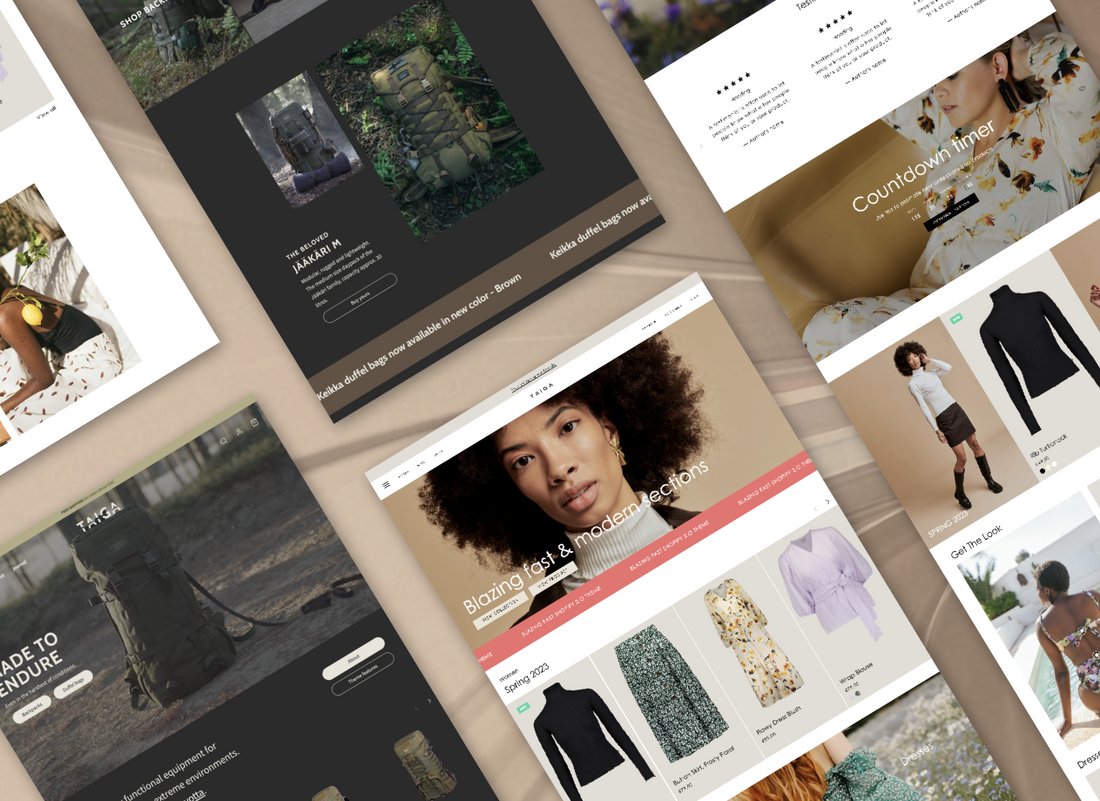 Looking for a Shopify Plus theme?
If you are on Shopify Plus or consider migrating to Shopify Plus we strongly recommend choosing a theme from the official Shopify theme store or a custom theme designed by a certified Shopify Plus partner. All themes available on the Shopify theme store have been approved by Shopify and meet the quality standards of modern e-commerce.

For example, the official Shopify theme 
Taiga
 is built
 with scalability in mind, allowing you to grow your business without worrying about technical limitations.


Create a unique customer experience with a Shopify Plus theme

Shopify Plus themes like Taiga allow you to tailor your online store to your brand and create a unique shopping experience for your customers. Shopify Plus billing plan offers advanced customization options compared to other Shopify billing plans. One of the key aspects of Shopify Plus is its customizable storefront with scripts and additional API resources. In addition, you can modify Shopify checkout with checkout liquid.


Daniel Wellington's storefront is customized using the Shopify Plus theme Taiga, the foundation for fast performance and quality code.
Shopify Plus themes - two key features

To summarize, there are two key aspects you should be aware of Shopify Plus themes

1. Additional Storefront API resources

First of all, Storefront API offers for Shopify Plus themes 20 requests in 1 second which is 10 times more than other Shopify plans. With Storefront API you can develop further your Shopify Plus theme and create unique customer experiences like personalized recommendations, and loyalty programs, and integrate the storefront with other systems, such as ERP systems, marketing automation tools, and other third-party platforms.


2. Shopify Scripts


Shopify Scripts are like personalized theme commands activated by certain customer behavior. Here are few examples how you can customize your Shopify Plus theme further: personalized discounts, custom shipping options and dynamic content.

Aim'n is on Shopify Plus and their storefront is a great example of Shopify Plus theme.
A Shopify Plus theme TAIGA

Taiga is a blazing-fast and mobile-first premium Shopify Plus theme. It gives you outstanding visual freedom - over 10+ video-supporting sections with unparalleled access to define your design settings. Zero customized code is needed to make your brand feel unique.
Taiga is developed for the needs of modern merchants. Quality code makes the theme win in speed - Taiga supports Shopify Plus additional storefront capabilities and Shopify scripts.

Additional key features
Outstanding design settings

Winning in-store speed test


Quality code 



Modern sections like Banner grid with video, Quick view, Countdown timer, Cart upsell, and Visual menu


10+ video sections


See Taiga's demostores and try it for free:
Shopify theme store - Taiga
Shopify Plus theme Taiga has two presets - light Mint and dark Sage.
Want to know more?

Contact the author

Pinja Kuitunen | Linkedin