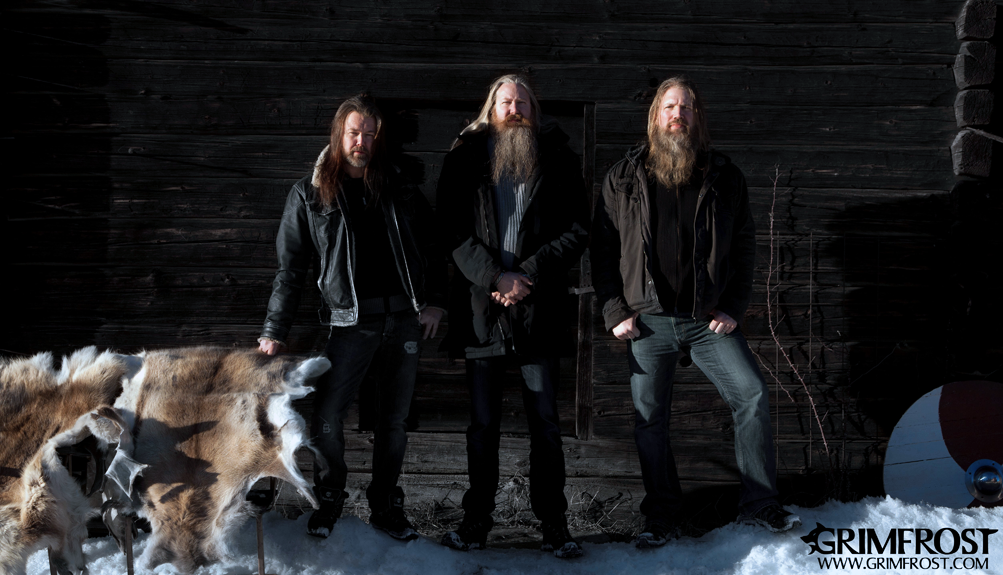 Grimfrost is a Swedish online Viking store. The Viking culture has always interested people, but it has had a boost in popularity in the past few years, in particular. The Grimfrost story and its founders' respect for Viking history started a long time before that, though.
For Grimfrost, the goal was to bring the Vikings into the modern era and at the same time honour the rich and nuanced history of the Nordic countries. Behind all this was the idea that history lives on in us, descendants of the Vikings. Grimfrost trusts in old, inherited skills and styles when making its products.
– The passion, courage and loyalty of the day and age is inspiring. It was a time when a handshake meant more than a signature on an official agreement. Individualism was highly valued and women were respected in a way that puts many places around today's world to shame, Ismo Arvenhav, one of the founders of Grimfrost, says.
To respond to the ever-growing Viking passion, Grimfrost chose the Shopify Plus solution as its e-commerce platform. The new Grimfrost online store opened in spring 2017.
"Viking at heart"
The online store products can be divided into two sections: reproductions that are reminiscent of traditional items and clothing, and modern products that respect the Viking spirit.
The newest product group is Grimfrost gym wear. It is represented by famous sportspeople such as World's Strongest Man competitor Johnny Hansson and CrossFit athlete Björk Odinsdottir. Whether either or both styles are closest to the customer's heart, Grimfrost's basic thinking is that the products bring the person closer to his or her own tradition and the ever-popular Viking history.
At the moment, most online store products go to the US and Canada.
– Many find them esthetically appealing – which in combination with the interest for the culture results in their popularity. There is a story behind each product, which also gives a meaning, or depth to what you are wearing, Arvenhav says. 
An even stronger bridge between the past and the spirit of today
Grimfrost was not born on the back of the TV show Vikings. The Grimfrost people have been involved in making Viking products since the 1990s. Their clients are museums, bands, and TV and film producers. The three founder members are united by an ability to bring the Vikings into the modern day though handcrafted products, stories and marketing. Behind everything is the skill of building a bridge between the past and the spirit of today.
Grimfrost's old online store was not even two years old when the pressure to grow could no longer be ignored. Woolman was chosen to help with the overhaul. The new online store opened in spring 2017.
– It has allowed us to grow in a way that would have been impossible with our previous solution, Arvenhav says. 
A committed band of followers and a belief in the future helped in decision-making. Grimfrost chose Shopify Plus as a growth solution. Shopify Plus is tailored to retailers' business demands.
At the same time, key Grimfrost processes, and particularly inventory management, the order picking process and logistics were put in order. The company chose Shiphero to support these functions. It enables efficient order picking and dispatch that can be controlled with a tablet. In addition, Shiphero contains key inventory management functions and an inbound purchasing option. The add-on app is readily available for integration in the Shopify online store. Woolman supported Grimfrost in its adaption of the app at its warehouse in Sweden.
– It makes routines easier and faster. Shiphero, however, has been under development during our time with them and isn't quite perfected yet. It has been the best solution though.
– Woolman has been a dedicated, competent partner with a clear passion for their trade.
In addition, the Live Agent customer service system and Mailchimp, well known from email marketing, support the online store's operations. Both systems work easily with Shopify.
A million followers and room to grow further
Behind all this is an active and constantly growing group of fans. In October 2018 Grimfrost reached over one million followers on Facebook.
Grimfrost has over 90,000 followers on Instagram and 13,000 subscribers to its YouTube channel. Fans of Vikings can see many familiar faces, such as Peter Franzén and Clive Standen, Grimfrost's social media pictures and videos.
– The community is the life and soul of Grimfrost. We are not just a shop – we are a lifestyle company, Arvenhav says.
The large group of followers is probably explained by openness and quality of content. Grimfrost doesn't hide behind a brand and trademark. The people who make the products are visible, and talk about Grimfrost and its day-to-day operations. The fans themselves also get to appear on Grimfrost's social media channels and online store as they share the Viking spirit all over the world.
Grimfrost can trust its Shopify Plus online store solution. As it faces its next big step, it can be sure the platform will give it room to grow. Grimfrost will continue to cooperate with Woolman on developing the online store through ideas and concrete actions. Grimfrost aims to expand in several areas in the future. How and where? That will be revealed with time. 
Read more about our customers: