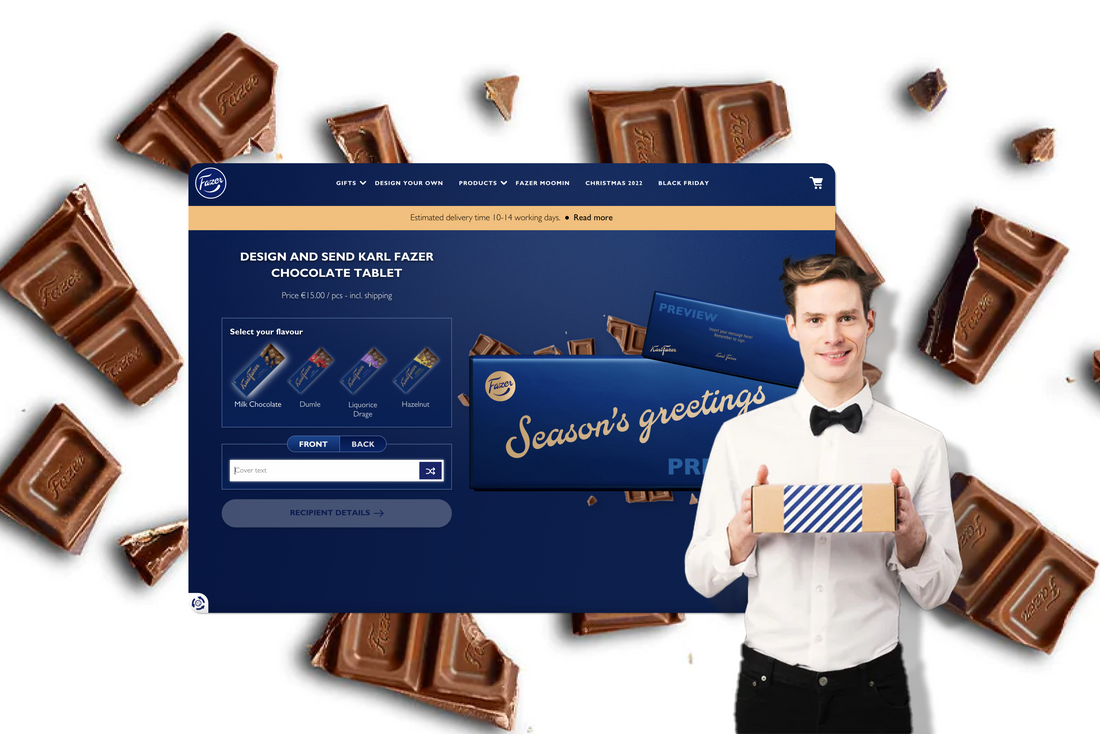 Fazer, an international  Food Experience Company, enables people to enjoy the best moments of their day. Fazer focuses on fast-moving consumer goods and its direct-to-consumer businesses. Today Fazer products are exported to almost 40 countries, and 8500 people across Europe work to deliver the experience. Fazer's strong consumer-centric approach allows it to craft the tastes of today, while exploring those of tomorrow.
How Fazer - a Food Experience company builds their D2C business in digital
Fazer's long-term strategy includes the Direct-to-Consumer business. In 2017 the director for branding and digital expressed the will to establish a consumer online store. She had two powerful driving forces for launching a D2C business: First, delivering the uncompromised Fazer Brand experience and second, building direct relationships with consumers to get data to drive development of new products and services with it. 
Building a startup soul inside the big company body
Having learned from its previous eCommerce initiatives, Fazer wanted to execute D2C in an agile way. Running an agile experiment required freedom and flexibility from existing core company processes and ways of working. So, instead of running the D2C experiment within the more obvious sales function, they made the digital marketing team the core of the operation. Then an experienced D2C eCom Manager was brought into the team and Fazer decided to run the experiment on Shopify Plus.  

The team embraced an agile mindset and started to experiment and iterate based on a fast feedback loop from consumers. It became the core way of working and allowed the occasional mistakes to happen in a fast-moving environment. The challenge they took on was a rapid launch of the first MVP (Minimum Viable Product) store - and that's exactly what they delivered. In just three and a half months the team launched the first D2C store.

"When we took on the challenge to build something completely new and wonderful for Fazer – a D2C online store, the challenge felt intriguing, yet safe because we were supported by Woolman people. Instead of consultants, the team included experienced online retailers as well as technology and business professionals who have gone through successes and failures many times. The trust was earned through this. Not jargon and mere technology but a commercial and new kind of way of working."

Johanna Widomski Director, Digital Marketing & eCommerce at Fazer 
Delivering an exclusive Fazer Food Experience
The key in D2C is not about competing with existing distribution channels and playing with the same offering. Instead it is all about delivering new value propositions to consumers - and in Fazer's case it meant building an uncompromised Fazer food experience in digital that no-one else could deliver. It is about testing new concepts, co-creating new services, driving engagement and having a dialogue with the consumer. And then digging into the data, generating insights and understanding what works and what doesn't.
Attracting first users to the D2C store
When building a whole new business, you have to start somewhere. Fazer had a good base of newsletter subscribers, and this was the first user group that was invited to come and test the new online store - named Fazer Store today. The first products on shelf were online exclusive boxes, assembled from existing confectionery products, but packaged in a new way. The response to the invite took everyone by surprise. Consumers enjoyed the concept and orders flooded in, to the extent that Fazer needed to quickly plan how to scale up operations and warehousing.
Experiment, engage, learn, improve -  and keep repeating the cycle
Next, the team set out to fully digitalize a chocolate personalization experiment that had been run by the Karl Fazer brand, one of the most valued brands in Finland. The consumer journey started from buying a voucher in a physical Fazer Café and continued online where the user could design a custom chocolate wrapper on a campaign site and finally have it sent to an address in Finland. Although the experiment was successful, consumers were asking for a fully digital experience where designing the custom wrapper, payment and order processing would all happen conveniently in one place. And instead of just Finland, there was a need for international deliveries.
The team launched the second, and later on the third, version of the customization service and it attracted attention in many ways. Consumers found innovative ways to use the service, whether it was for greeting cards, marriage proposals or just saying thank you. In the end the My Karl Fazer Blue customization service became such a hit that it was scaled to cover other Fazer brands, Domino and Marianne. Woolman has helped Fazer in building an intuitive design and user interface for the service.
"Since its launch, "My Karl Fazer Blue" has delivered hundreds of thousands of personalized messages across Europe and the service is loved by consumers and companies alike."
Johanna Widomski Director, Digital Marketing & eCommerce at Fazer
Co-creating tomorrow's products with MyFazer
Next in line was testing new product innovations and using the online store as a way to reach consumers directly. The first test product was called "Fazer Pure Ruby", a special pink chocolate tablet produced in limited quantities. The launch was again a success and new lessons were learned from releasing an exclusive product and creating a flash sale with a high demand peak.
The product development teams at Fazer are now actively working with the MyFazer community - a group of loyal Fazer fans. The community has an essential role in co-creating new products. In summer 2021, MyFazer members were invited to vote on "the next favorite candy bag". The winning combo was taken into production, and is now distributed by retailers. So, coming back to the question on retailers and D2C - it is not a competition but a win-win situation. 
Previous D2C experience helped Fazer act fast when Covid-19 challenged business
When Covid-19 hit, consumers moved quickly online and new expectations started to emerge. To react fast on changing consumer behavior, Fazer directed more focus and resources on ramping up its existing ecommerce channels as well launching new ones. Operations needed to scale fast. 
Since Fazer knew the possibilities the Shopify Plus eCommerce platform provided, they decided to quickly take more business operations online. This time, the Fazer ICT team put their heads together with Woolman, and found ways to turn Gateau Bakery Shops in Finland and Sweden to click and collect services in just weeks. This provided new ways of doing business in the midst of lockdowns. Next, Fazer Cafés were taken online. The Shopify Buy Button was utilized to make it easy to trade in all channels. Soon it was replaced with the Woolman Headless Buy Button with more functionalities to make buying even easier.
" We were able to build 3 web shops fast and agile way and secure our business continuity. Woolman supported us in new ways of working and enabled launch of Gateau and Fazer Café web shops in a tight schedule. Woolman's team was really professional and committed in the project. They also resolved quickly how to modify Shopify platform according to Café and Gateau bakery shops business processes."

Sirpa Korpela ICT Development lead for eCommerce at Fazer.
Learned from previous experience the team was able to manage high demand peaks, create new digital services and sustain good growth after the first rush.
"What started with wireframes and a MVP in 2017 has grown into its own digital business, run by a great team of experts. We have ambitious plans for the future and we'll embrace it with our trusted partners."

"We have grown together hand in hand. Through success and sometimes through friction, but there has always been the desire to do better together and keep the cooperation honest and open. And the flexibility. In the middle of Covid-19, you helped us build new online stores from scratch in mere weeks. The work has always been done at full focus and high level."
Johanna Widomski Director, Digital Marketing & eCommerce at Fazer
Mareena Löfgrén, Brand manager, Woolman 
Looking for more inspiration?