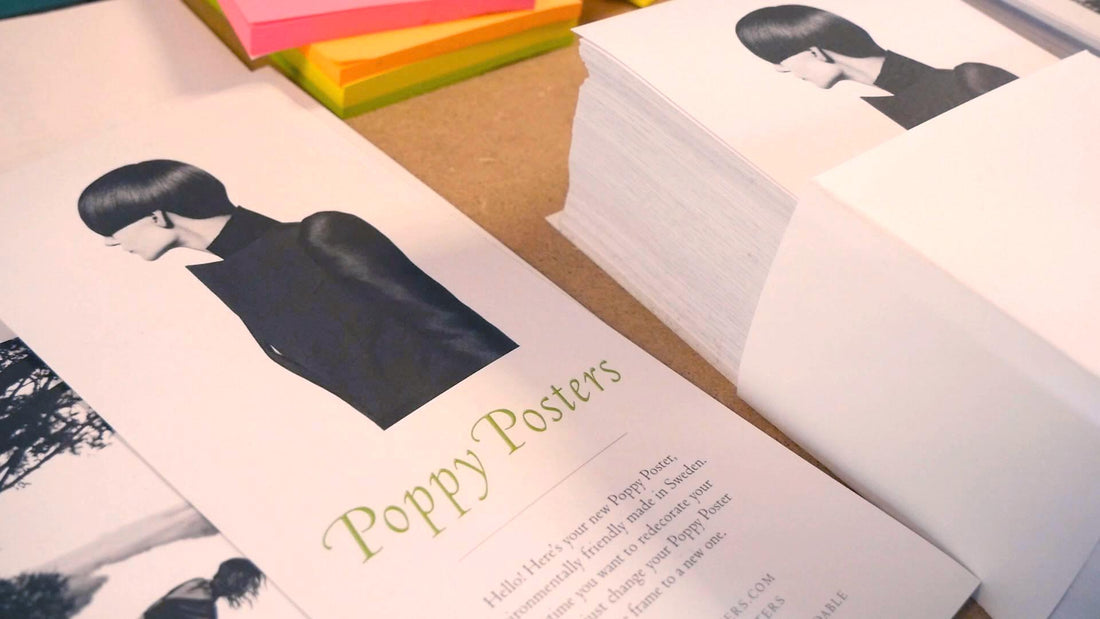 Poppy Posters was founded following a decision to breathe new life into photos sitting in an archive. Poppy Posters sells posters and frames in its online store. A passion for quality photographs and printed products, as well as a break from Intermission magazine, saw John Scarisbrick and Patrik Sehlstedt start their online store.
Poppy Posters launched its first online store in spring 2019.
Archived pictures get a new lease of life
Scarisbrick and Sehlstedt own the lifestyle and fashion-focused Intermission. Together, they have worked on various projects for around nine years. Scarisbrick and Sehlstedt are both photographers and editors-in-chief of Intermission. Editing a print magazine has brought its own challenges, however.
"Nowadays it's very hard to make a living from a print magazine," Scarisbrick says. 
In autumn 2017, Scarisbrick and Sehlstedt decided to take a small break from the magazine. During that break the idea for Poppy Posters was born. One day, Sehlstedt called Scarisbrick and said that he had a slightly mad idea that they could put into practice together.
"Patrik called and suggested that we turn the photos we had in the archives into posters, generating a side business for us. That could mean we could get back to the magazine after a little while," Scarisbrick says. 
"We had so many photos in the archives we could give a new life to. They would have otherwise just stayed there and had no purpose," Sehlstedt says.
Even though similar companies existed, Scarisbrick believed that they could offer something others did not – quality and uniqueness. Working with the magazine had taught both of them a lot about photos, print products and layout, all highly useful knowledge for making posters. After about five months of talking and thinking, Sehlstedt's brother came on board and the three founded Poppy Posters.
Towards an online store
In the very beginning the posters were sold to their families and friends – or to anyone at all who happened to like the posters. Scarisbrick travelled around presenting and selling posters. Many were stunned by the quality of the posters and often asked whether they were photos, posters or printed images.
"We care about images so much that we want our posters to be reminiscent of the original picture," Scarisbrick says, describing their way of working.
The current online store is the first one that Poppy Posters have launched. The company had previously planned an online story on a platform other than Shopify. The project lasted a few months but was never completed.
There was no problem with the chosen platform itself, but Poppy Posters wanted the help of more experienced web app developers. Scarisbrick happened to know someone who was satisfied with Shopify, who recommended it. Together, the people at Poppy Posters decided to look into the matter and someone recommended they contact Woolman.
"We met several firms but in the end chose Woolman, because we got comprehensive answers to our questions. Working with Teemu has been great," Sehlstedt says.
In future: a focus on marketing and client acquisition
Now the Poppy Posters online store sells just over a hundred different posters and a dozen frames. Even though only photographs were initially used, there are now also posters based on illustrations. Sehlstedt says that their goal is for everyone to be able to find something in the Poppy Posters range, regardless of what they're looking for.
Sehlstedt believes and hopes that Poppy Posters will continue to be successful in future. Next, Poppy Posters is going to focus on marketing and client acquisition.
"Focusing on marketing and client acquisition is really important, because nobody is going to end up on our site by accident," Sehlstedt says.
Read other customer stories: