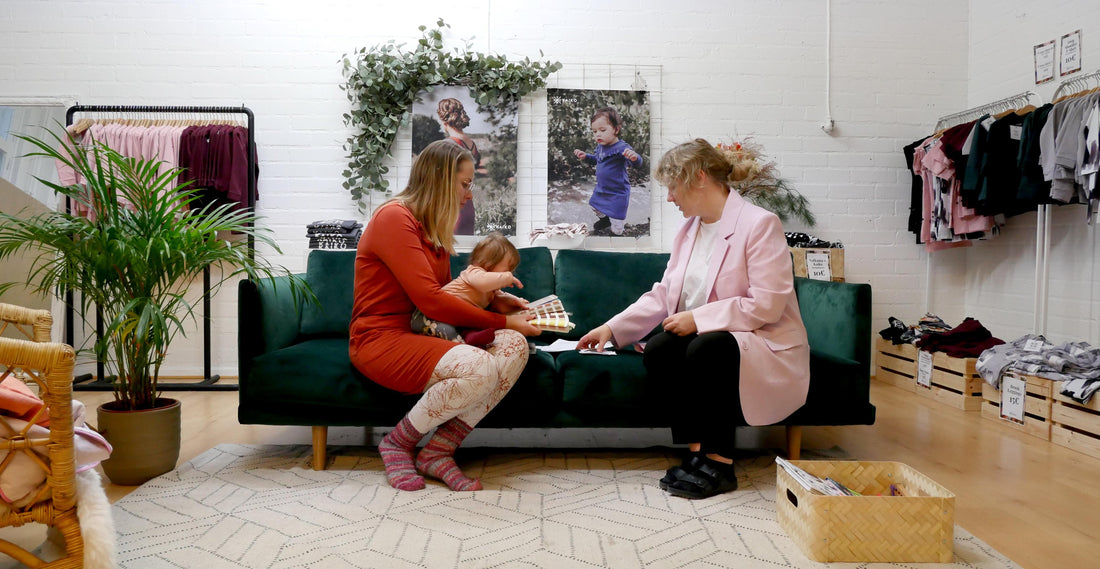 – The new and updated online store theme makes so many things possible, Kaiko founder Mirjam Sokka says.
Kaiko Clothing is a company specializing in children's and women's clothing. The clothes are ethically and ecologically produced and some of the company's profits go to charity. The new, fresh Kaiko Clothing opened in autumn 2018. 
Goal: more profitable, in line with the brand look, clear
When Kaiko began, its collections were small, and the combination of the Shopify online store it had made itself and Squarespace was enough. The first online store's theme served its purpose well, up to a point. 
– When our production volumes increased and our collections grew, we decided that it was time to update our online store. We needed to make it more profitable.
Other professionals were needed to give the store all the properties that Kaiko wanted. The desire was for the site to be more profitable, in line with the brand look, and clear. Thanks to the update, all data were brought to the same web address. 
– We wanted to use the services of a professional who creates online stores every day, who is always involved in the online store world, and who could offer us the correct solutions. We chose Woolman, Sokka says.
Kaiko wanted to get the store ready to make room for growth: in addition to children's clothes, women's clothing and accessories were being added to the range. In autumn 2018, in honour of Finnish Father's Day, men also got their own small collection.
A clear style – with a twist
Kaiko began with a college project that took flight. Sokka was studying international business. Her studies included project work.
– I was doing two projects, one for Weecos, and another with which I could test Kaiko's market. 
The result of the project was building a small but well-branded fair stand for a children-themed trade fair. 
– The products sold like hot cakes. Kaiko became more than just a project, Sokka says, laughing, and adds that she never finished her studies:
– Kaiko took me with it. 
Kaiko stands out with its reworked colours and clear styles.
– Since designing the first collection the idea has been that the style is simple with a twist of some kind. It could be a fine pattern or a detail on a garment that stands out, she says. 
"Fashion with a mission" takes Kaiko forwards
In addition to its own distinct style, Kaiko also does good by cooperating with Women's Bank. The company donates 7 % of sales profits to women's and children's education in Nepal. The idea originated in Sokka's desire to combine the fashion industry and doing good.
– I found the fashion industry superficial and wanted to make my contribution through charity. To combine those two worlds, if you like. 
In the past few years, tens of growing children's clothing brands have appeared in Finland. As well as clothing style, people are interested in materials, their eco-friendliness, country of manufacture and ethical value.
When the Kaiko story began, a good foundation had been laid for the Finnish children's clothing market and the industry was on the rise.
– In that sense, there was a good customer base already in place. We brought in a new aspect, our developing world project and the values that I'm certain mean something to our customers.
Marketing budget in mind
Since the update, the people at Kaiko have noticed that their customers make more regular purchases. Sokka can't say for sure whether the improved conversion is because of the updated store or the social media marketing they paid for.
Before it cooperated with Woolman, Kaiko did some "blind", as they put it, advertising on Facebook and Instagram. They boosted random Facebook posts by paying a few tens of euros.
When the online store was updated, Kaiko wanted to try more systematic advertising. Woolman's growth hacker, Mikko Rekola, helped Kaiko with paid advertising at first. The ads were trialled with a very small daily budget, which was increased once the right audience had been found.
Both taking control of marketing and the new, better serving online store have provided a lot of lessons in a short period of time.
– Updating the online store with Woolman and working with Mikko have been very intense in a short period of time, and I've learned so much about e-commerce, Sokka says.
There are new goals and, for sure, more to learn ahead.  
– Next year we're going to make clear plans and at the end of the year we're going to take our first steps towards going international, Sokka says.
Want to read some more customer stories?